Late last November, Ikechukwu "Ike" Sharpe '18 heard rumors about a basketball player here at Loyola. Bri Betz-White '18, who was then beginning her final season as a Greyhound, was considering her post-grad options. She decided to pursue professional basketball overseas. When Sharpe heard this, he was inspired. The idea of using his love of filmmaking to follow Betz-White through her final season intrigued him.
"While I knew Bri 'the player,' I didn't know too much about Bri 'the person,'" Sharpe said. "I immediately jumped at the idea of filming Bri's final season."
However, just as Sharpe approached Betz-White, got her on board, and was about to begin filming, Betz-White suffered a season injury which put Sharpe's plans on hold. His grand idea of following her senior season was crushed, and he was at a loss as to how to proceed.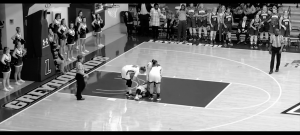 "Initially, I wanted to focus on celebrating her successes up to date, and preparing for a potential future overseas," Sharpe said. "However, due to the injury, I decided to approach it from a different angle. I wanted to focus more on who Bri is, where she came from, who she draws inspiration from, and the long road back to recovery."
Bri Betz-White was more than happy with this idea and agreed to start as soon as possible.
"It was a little strange at first," Betz-White said. "I wasn't used to a camera recording my workouts, being in front of the camera, or anything like that at all really. But after a little bit I got more used to it and had fun with it."
The new direction allowed the documentary to evolve into an all-encompassing piece that told Betz-White's basketball story. It was not only about her road to recovery or her plans after college. Sharpe transformed the piece by incorporating interviews with people from different spheres of Betz-White's life. Her coaches, parents, best friend, and teammates are all featured in the short film.
"It's a constant reminder of why I fell in love with the game of basketball," Betz-White said of the final documentary. "Ike and everybody who worked on the documentary really did an amazing job. I was so pleased with how it all came together."
"I am more than proud of the end result. Creating this documentary is the start of my career in filmmaking among other fields I aim to tap into," Sharpe said.
Overall, filming and editing Sharpe's documentary, which is entitled. "Tunnel Vision," took all of his senior year and a majority of the following summer. The final cut was just released on Aug. 10, Betz-White's birthday.
Sharpe has since received much praise throughout the Loyola athletic community. Watch Ikechukwu Sharpe's documentary featuring Bri Betz-White on YouTube, and support a Loyola alum. For more information and the chance to see more of Sharpe's projects, follow him on instagram at @sharpevisuals.