Mary Beth Akre is a professor in the Fine Arts Department here at Loyola, where she currently teaches Two-Dimensional Design. Akre is constantly doing things for the community and advocating for world-wide issues. One of the organizations she devotes a lot of effort to is "Loaves and Fishes," where she volunteers as a cook. "Loaves and Fishes" is a Baltimore food pantry that is a huge player in the battle against hunger in Baltimore.
Every week, Akre goes to the retail warehouse Sam's Club, buys a huge amount of food, and starts cooking for about two hundred and forty people. Judging from the delicious cakes that she brings to class, I can see why her chicken noodle soup would be a huge hit.
I sat down with Akre and asked her about her cooking process.
"On Saturday we come in, we get there at about 2 p.m. and the food has to be ready to go by 4:15 p.m. So, to that end, especially if it is chicken noodle soup, I cook the chicken the night before. I cook the soup but also coordinate with the sandwich makers so that we get everything finished and ready to go to be put in the van at 4:15. So if we do not have a whole lot of people making sandwiches, once I get the soup started I go in and make sandwiches too," Akre said.
According to Akre, it is a busy day when the van is about to go out. There is a lot of running around in order to make sure there is enough to feed everyone. The people Akre serves are are most likely eating their first meal in days.
Once the van is loaded, the volunteers head out to similar locations every time.
"They know exactly where the homeless people congregate. There's the Waxter Senior Center and St. Ignatius Church, a lot of people experiencing homelessness congregate there. But they also know pretty much every nook and cranny down in East Baltimore, lower Fells Point, and upper Fells Point." Akre said.
"The neat thing about 'Loaves and Fishes' as opposed to some food programs [is that we] go to where the homeless people are," Akre said. "With other programs, the homeless have to go where the food is served. Sometimes, it is too much trouble for those experiencing homelessness to go to the food or it is warm where they are and they do not want to leave. Therefore, our folks find them and bring hot food to them instead of the other way around."
Akre has been working for "Loaves and Fishes" for a long time. She wants to spread awareness to students at Loyola because homelessness in Baltimore is constantly increasing. When asked how a student can get involved, Akre spoke about how those who are interested can go onto the CCSJ website, click on the Community Partners page, and read about the different community partners.
If you do not want to serve food, are a little shy, or are not sure about connecting with people you do not know, there are so many other ways that you can serve here on campus or in the Baltimore community that can better fit your style.
"The website is perfect. You just click on community partners and read through it. They have one day service, once a week service, once a month, and a lot of different ways they can serve depending on how much time you have" Akre said.
York Road Initiative is another service organization based in the York Road community that Akre recommends to students looking to get involved. More information on the York Road Initiative can also be found on the CCSJ website.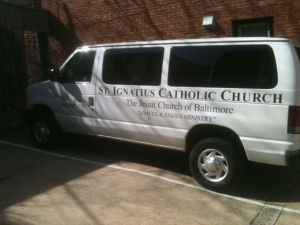 Akre has many different stories about her service experiences. When asked if there are any particular stories that have touched her she said, "all of them do."
However, just this past week she had a story that made her day.
"I was at Sam's Club picking up all of the food for 'Loaves and Fishes' on Saturday. As you can imagine, there is a lot of food. We buy enough food to feed about 240 people, and it always goes. I was loading 24 loaves of bread, lunchmeat, mayonnaise, hot chocolate canisters, etc. into my truck as an older couple walked by." Akre started.
"The gentleman teasingly said: "You must have a LOT of kids!" I told him that we were feeding the homeless. He stopped in his tracks, turned around and came up to me with the biggest smile on his face. He gave me a superior bear hug and said 'God bless you.' His wife had tears in her eyes."
Many people want to help the homeless community and there are many ways to do so through Loyola. Akre just recently brought advocates for helping the homeless and member of "Loaves and Fishes" to her classes to share their stories.
Natalie Anzevino '21, thought the stories were very touching.
"I was very humbled and touched by Akre's and the advocates' stories. I am very interested on how we as students can help the homeless and work side by side with them," Anzevino said.
Akre is always helping others. From helping the homeless to little things such as cooking cakes for each of her students' birthdays. She is a humble and helpful person who cares deeply for others.
There are many ways to get involved with different organizations around Baltimore for different causes. You can find out more at the CCSJ website or by just stopping in and seeing what you can do to get involved.