"People with disabilities are just people," Erica Mones '19 said. "We're just differently abled."
These words rang true at the Disability is Diversity club's inaugural meeting on Sept. 29. The club was started this year by Mones, who serves as president of the club. The group is a place for disabled students and allies to come together.
"I started it because I feel like all the other students on campus have a place to go and talk about stuff but disabled students don't," Mones said.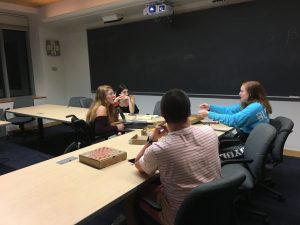 And that's what happened at the meeting. Over pizza delivered from Toss, the club members discussed their experiences on campus, laughing about awkward moments and ranting about insensitive comments other people had made toward them.
The members also brainstormed different activities and programs they could host that could share their experiences with the able-bodied students on campus, which is one of Mones' goals for the club.
"I want to increase awareness for disabilities and also try to erase stigma [around them]," Mones said. "We need to go out and show people we're just regular college students."