On Feb. 26, British indie-rock band the 1975 released their second studio album after a three-year hiatus. "I Like It When You Sleep, For You Are So Beautiful Yet So Unaware Of It," is a mouthful of an album title. With an impressive 71 characters, it sets the record for the longest album title at No. 1 on the Billboard 200 chart. This title beats out LL Cool J's "G.O.A.T. Featuring James T. Smith: The Greatest of All Time," which weighs in at 59 characters. The 1975's album also marks the band's first No. 1 spot on this chart. And although the album was kept off of streaming services for 12 days in order to promote in-store purchases, it is now available on Spotify.
Drummer George Daniel, bassist Ross MacDonald, guitarist Adam Hann, and lead singer Matthew Healy make up the 1975. Healy is a 26-year-old singer-songwriter who has acted as the driving force behind the electric album. In an interview with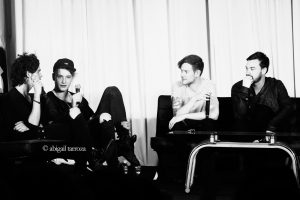 Billboard, Healy admits, "I've never let anything stop me," in regards to his ambitions, both musical and personal. "Music is my only divinity," he claims. Healy founded the band at the young age of 13, and worked tediously to pursue his dream of making it big. His ambition drove him to pursue a recording contract, but being 13 made the process difficult. He was another young British native, looking for a job in the overpowering entertainment industry: an exciting yet unfortunately unrealistic dream. Healy said, "I was being told I wasn't good enough. I didn't like the idea that somebody else held the key to my creativity."
The 1975 is not your average boy band. One may think that the group is just another pop heartthrob band adored by teenage girls everywhere, but you may be surprised to find that their fans hail from a wide range of demographics. The band offers an eccentric sound, as heavy keys and psychedelic tunes carry the 17 tracks along, creating similar sounds to those created by groups during the 1980s, such as Duran Duran. The majority of the tracks found on this album are laid-back and mellow, but there are a couple of tunes that will also satisfy your upbeat, dance needs, such as "Love Me" and "The Sound." Overall, the album is a collection of carefully crafted songs; some with lyrics while others, like "Please Be Naked, "is entirely instrumental.
The 1975 is set to hit the Coachella stage for the second time before their headline tour begins in the U.S. this upcoming April. If you're still in the Baltimore area on May 14, you can catch the group perform at the Sweetlife Festival. Tickets are on sale now.
Feature Image: alexliscio Photos, Courtesy of Flickr URL