Last Thursday night, Feb. 18, students passing through the college center after practice, meetings, or classes found the usual smell of coffee overpowered by barbecue sauce and mac and cheese. The area, normally cleared out by 8 p.m., was packed with students piling pulled pork onto paper plates and sipping on perfect ice tea at WLOY's Southern Cookout.
WLOY hosts events similar to this one every Thursday night, from 8 to 10 p.m. The smaller "Coffeehouse" performances are hosted in the Reading Room, including open-mic nights that take place once a month — in case you are looking for a way to impress everyone with your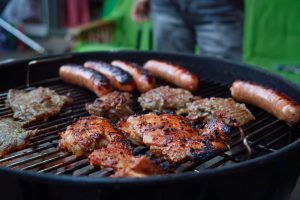 musical talents. "Late Nights," is the radio station's other Thursday night events, which are held in McGuire Hall, often featuring better-known bands.
This past Thursday, however, WLOY tried something new. It cleared out the tables and chairs in the college center to make room for a free BBQ buffet. It also requested that Starbucks stay open extra late for students to get their evening caffeine. While this set-up was an added bonus, the highlight of the night was of course the music.
Swampcandy,a Baltimore-based band, has their own original beat called "nasty blues," that filled the student center with energy far greater than that of any typical two-man band. Their music was a breed I have never encountered before, made doubly entertaining by the excellent performance. Ruben Dobbs bellowed out upbeat Southern tunes through his thick beard and impressive sideburns, but it was Joey Mitchell who grabbed the audience's attention. He aggressively played the bass and kick drum, banging his head around as if he were a teenager at his first Warped tour.
Caleb Stine and the Brakemen, hip musicians with excellent taste in hats, followed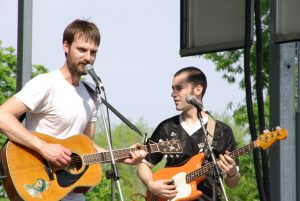 Swampcandy. They create authentic Baltimore music, dubbed the "lynchpin of the Baltimore folk scene" by The Baltimore Sun. On Thursday night, they put on a beautiful show, slowing things down a little bit, but still continuing the melodic energy that started with Swampcandy. They're not well known outside of Baltimore, but based on their performance, they definitely should be.
The entire evening was Loyola's take on a southern cookout, a chance to unwind before midterm craziness, and a concert that didn't cost a penny. If you missed out, don't worry. WLOY will continue to host events every Thursday night for the rest of the semester.
Feature Image: Khairul Izwan Kasmijan Photo, Courtesy of Flickr URL