A New Era in Basketball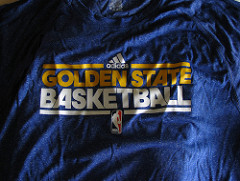 Photo courtesy of Rocor of flickr.com
48-4. Let that record sink in.
The Warriors are on a crazy streak in the NBA, tearing teams apart and sending shockwaves all over the country. They beat the Houston Rockets on Feb. 9 to claim their 42nd straight home win, stretching from Game 2 of the NBA Finals against the Cleveland Cavaliers. With this win, they secured the best start in NBA history. They are on pace to eclipse the legendary record of 72-10, set by Michael Jordan and the Chicago Bulls in the 1995-1996 season. The scary part is, they're only getting better. After that game, Stephen Curry stated that "[They] can definitely play better by sustaining [their] level of play and being more consistent over 48 minutes." Just imagine if they actually lived up to that statement.
Led by reigning MVP Stephen Curry, this team was slowly rebuilding over the course of the last five years under the supervision of former coach Marc Jackson. With a couple of key trades and moves, the team finally became complete. Once current coach Steve Kerr took over, this team has become unstoppable. Never before have we seen a player such as Curry shoot off the dribble with such ease and fluidity. Before each game, he shoots from the tunnel and goes through a media crazed pre-game routine that involves various dribbling drills and jump shots from half-court, among others. He is a sniper who pulls up from 30 feet during a game. In all my years of watching basketball, I have never seen anything like him.
The Warriors are ushering in a new wave of fans. Compared to LeBron James, who is a 6'8, 250-pound athletic freak of nature who destroys anyone in his way, Curry is more relatable to the average kid. Nicknamed the "Baby-Faced Assassin," kids all over the world can relate to Curry since he is a sharpshooter with pretty handles. Players with a physique such as LeBron only come once in a few generations as opposed to Curry. However, if you watched the 2015 NBA Finals, despite how great of a player Stephen Curry is, he needs a solid team that can support him along the way. What sets this team apart from others?
Teamwork.
The Warriors are playing an upgraded version of the San Antonio Spurs. Beautiful passes, great looks, and a lot of unselfishness. Their style of play is reminiscent of the "Showtime Lakers," an era in which Magic Johnson and his team wowed the world with flashy passes and shots night after night. Unlike the Houston Rockets who are too dependent on James Harden (who I think should have won MVP in the 2014-2015 season), everyone on the Warriors is an above-average player who can create and make shots in order to win.
While watching the Warriors vs. Pistons game two weeks ago , I noticed that Curry could have easily shot the game winner if he wanted to with a few seconds left. Instead, he passed the ball to teammate Harrison Barnes who drained the shot with ease. Curry is doing what LeBron has been doing for the past decade: commanding the floor every time he touches the ball, which in turn opens up the floor for his teammates. The greatness of the Warriors is enhanced by their great bench play. All the players are young, healthy, and love to move the ball up and down the court. With all of this combined (Curry, the 2nd best shooter in the NBA Klay Thomas, Draymond Green, Andre Iguodala, and great bench players), the Warriors are easily the best team in the NBA.
Earlier this year I told my friends that Curry is damaging the NBA because I see people just chucking shots from the three-point line. There's more to basketball than shooting from three. However, I may be wrong; now and then I find myself seeing kids on social media doing the exact same pre-game routine Curry does. Only time will tell how Curry will affect the next generation of basketball players. However, as of now, I am still rooting for LeBron James and his squad to secure their first ring in Cavalier history.
View Comments (1)
Your donation will support the student journalists of Loyola University Maryland. Your contribution will allow us to purchase equipment and cover our annual website hosting costs.