It's often difficult to remember while watching TV that the characters on the screen have their own unique lives out of the public eye, lives that are hidden from the spotlight. Ariel Winter, best known for her role as Alex Dunphy, the responsible, wise middle child of the Dunphy family on "Modern Family," has been facing a very personal problem over the past year, one that she speaks about with the grace and confidence of someone well beyond her years.
Winter, who recently celebrated her 18th birthday, has struggled with her breast size since the age of 15. This issue has impacted her personal life as well as the way that she is portrayed through the media. Winter recalls wishing when she was younger that she had more curves, a desire that she says seems to have come true overnight. "I was 15 years old with [size] F [breasts]," the actress recounted. "It's like, 'How do you navigate that?" Winter spent the next couple of years facing the difficulty of finding clothing that would fit her, often feeling frustrated that she couldn't find bathing suits that worked, or that her friends would dress in a way that she couldn't for risk of exposing too much of herself.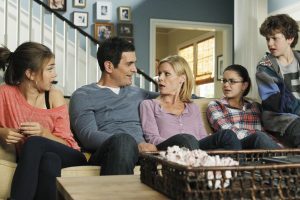 Along with the complications that came with dressing herself, Winter found herself to be in constant pain, which eventually became too much to bear. With the demanding career as an actress, and having to stand for long periods of time, the pressure started to take a toll on her back, as well as her overall happiness.
After dealing with the pain, the media over-sexualizing her, and her attempts to dress herself appropriately, the then 17-year-old decided that undergoing breast reduction surgery was the best solution. Winter wishes for everyone to know that the decision to have the surgery was entirely her own, a very mature choice to be made by such a young woman. Winter underwent surgery back in June of 2015, and she says that she now feels much more confident and comfortable in her body. And despite the physical difference that many will notice, her decision impacts her on a much deeper, more emotional level.
Most recently, on Jan. 30, Winter walked the red carpet at the Screen Actors Guild Awards wearing a beautiful, backless black dress that happened to reveal some of her scars. Though people often try to hide their scars or feel ashamed of them, Winter felt nothing but pride in how she looked.
After receiving concerned comments from fans on social media, Winter took to Twitter to defend herself, stating, "There is a reason I didn't make an effort to cover up my scars! They are part of me and I'm not ashamed of them at all." Above all else, Winter is a fantastic role model for young women who struggle with loving their bodies and feeling comfortable in them. Winter is the perfect testament to the fact that no matter how you look, it is your body, and as a result, your responsibility to feel as comfortable as possible in your own skin.
Feature Image: Dominick D Photo, Courtesy of Photo URL