Rihanna's roots as a native from Barbados shine brightly in her newest album, "ANTI," a 16-song collection of heartfelt lyrics, laid-back vibes, and beats that make you want to dance.
Already at No. 1 on the Billboard 200 chart, "ANTI" was released on Jan. 27, through Tidal, Jay Z's streaming service. However, the album was not available on all music platforms until Jan. 29. If you are a Tidal member, you can download the entire album, which features SZA and Drake, here.
"ANTI" presents fans, otherwise known as "the Rihanna Navy," with an inside look at the seemingly complicated life that Rihanna has led over the past few years. She communicates her heavy and emotional adult life in the most beautiful way: through song. You can hear it from the very first measures of "Consideration," a song that expresses the tiring feelings that come with fame, while featuring R&B singer SZA.
One short lyric, "Would you mind giving my reflection a break from the pain it's feeling now?" sums up the meaning of the entire song, which is that fame can be stressful and life is not always what it seems. "Consideration" seems strategically placed as the opener, like it is meant to prepare listeners for what is to come with the rest of the album.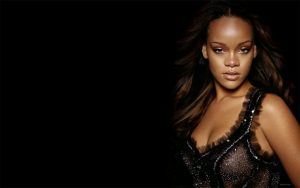 After several replays of each song, I was able to pick out a few of my favorite tracks. Five songs in, I was pleasantly surprised with the heavy, percussive beats that "Desperado" offered. The lyrics tell the tale of a girl who is afraid of love, yet has a greater fear of being alone. The whole track sounds like an ode to Desperado, who seems to be an "on the run," rebellious character.
"Never Ending" was the next song that caught my attention. Perhaps one of the more emotional tracks on the album, Rihanna sings along with the soft strumming of an acoustic guitar about the uneasiness of separation and the struggle of falling out of love.
And then, there is a single standout song that seems to take the cake. For me, this song is "Love On The Brain." This is the type of track that will have you singing at the top of your lungs, loud and proud. Rihanna's powerhouse falsetto and impressive riffs give off a Beyoncé-esque vibe, which, of course, is always a good thing. Whether she took inspiration from Queen Bey or not, this song is still a personal favorite.
I highly recommend that you give "ANTI" a listen, which will take you just under an hour from start to finish. Whether you are in the mood to dance around, shamelessly belt your heart out or sit back and listen to some mellow songs, I'm sure that you'll be able to enjoy this album.
Feature Image: tricks ware Photo, Courtesy of Flickr URL