Popular band Coldplay dropped its 7th studio album on Dec. 4, releasing what very well might be some of the group's best work yet. This release came on the heels of the news that the band will be performing during the 50th Super Bowl halftime show this February. After releasing their first single "Adventure of a Lifetime" in early November, it was clear that the group's sound had begun to change slightly. While maintaining a soft rock and pop sound, Coldplay's music seemed to be more upbeat than their previous albums.
Thus, Coldplay is coming out of a dark stage following their beautifully haunting Ghost Stories album and are returning with more cheerful songs this time around. The sounds of the two albums could not contrast more, but together they lend to the raw emotions felt following a break up as they followed front man Chris Martin's divorce from actress Gwyneth Paltrow. While Ghost Stories focused on the broken shards following a failed relationship, A Head Full of Dreams picks up the pieces of its predecessor and offers the motto of looking on the bright side.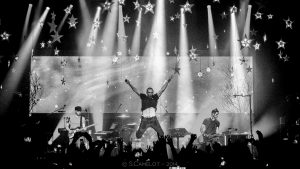 Notably present on the album are a few collaborations that enhance and compliment the band's new sound. For example, "Hymn for the Weekend" is a duet with Beyoncé, and it is just as beautiful as you would imagine it to be. With a catchy beat and lyrics, you can't help but hum along to this song as it plays. "Fun" is a slower track, and starts with a sound similar to the songs Coldplay fans are used to. Lead singer Chris Martin and artist Tove Lo harmonize nicely when singing about the optimistic side of a lost love. The lengthiest track on the album is almost seven minutes long, featuring singer Noel Gallagher and is titled "Up&Up." This song highlights the feel-good tone of the album, showing that there is an upside to even some of life's biggest downfalls. 
A Head Full of Dreams does not rely solely on its successful collaborations for a strong sound, as the rest of the album is equally enjoyable. "Everglow" is a beautifully written piece
that pays tribute to Martin's previous relationship with Paltrow, who sings backup for a few lines in the song, thus proving it is possible to be mature following the end of a relationship. Another notable song on the album is the title track, A Head Full of Dreams which once again features an upbeat rhythm and inspiring lyrics that coincide with the song's positive message.
Chris Martin has previously hinted that A Head Full of Dreams may be Coldplay's final studio album. While this is disappointing news for fans, this final album will certainly leave Coldplay's legacy on a high note. As fans hope the group will stay together and create new music, they can spend their time dancing around to all the vivacious tunes that the band's new album has to offer.
Feature Image: Andrea Labate Photo, Courtesy of Flickr URL