Students going to the library have most likely noticed the art exhibit, "Aces: Faces, Places, Spaces," a collection of work by Loyola '16 undergraduates, all of whom have excelled in the artistic field, including paint, drawing, photography, etc. These pieces are all beautifully unique, and are paralleled to the thoughts and beliefs of each artist.
On a space of open window, there's a collection of triangular-shaped black and white photos, taken by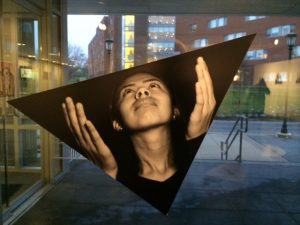 artist Itzayana Osorio. Each photo features a different person and a different part of the human body. For example, a sliver of someone's face (from the bridge of his nose to the tops of his furrowed eyebrows), a set of hands held in prayer, a face looking up to the sky while a set of open arms embraces something from above, and several others. According to Osorio, these photos are meant to represent "brokenness," and showcase the fears that someone may experience when tackling a new obstacle in life. The triangles symbolize both the good and bad stories that aid a person's character.
In addition to Osorio's photos, fellow photographer Victoria Sluko has her work showcased as well. She captured several large, colorful photos of different landscapes that are blown up and mounted on white boards. These aren't ordinary landscape photos,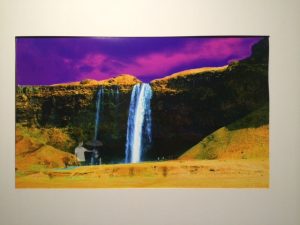 though. They feature traditional natural sites, with transparent black and white figures layered on top. These humans don't appear to be necessarily active (in most situations they're merely standing side by side), and they contrast directly with the colorful outdoor pictures. Sluko took these photos while studying abroad in Reyjkiavik, Iceland, and digitally edited them to enhance colors, as well as add the human bodies on top. The overall goal of these photographs is to showcase how vitally important our Earth is, and how as humans, we need to appreciate this world by adopting greener lifestyles. Sluko dubbed this collection, "Toxic Wasteland."
Towards the front of the exhibit is a set of acrylic paintings. These pieces, created by Samantha
Wilkerson, reflect the idea of being able to take a step back and view life from an alternative perspective. Wilkerson calls this set of paintings "Visions," and offers an introspective focus on the third eye, which according to the artist, "allows for the potential of extrasensory perception—seeing beyond ordinary sight—to the true nature of reality." These paintings are colorful, vibrant and original. They mimic the work of artists Leonid Afremov and Vincent Van Gogh.
On a separate window space, a set of photographic creations by artist Annemarie Koogle, is featured. These photographs, three in total, depict young women from the neck up. However, the profiles of these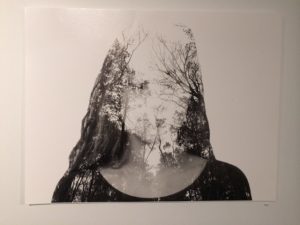 people aren't easily distinguished, since photographs of nature are layered on top of their faces. Two women's faces are layered with a sunlit forest, and the third has a pile of leaves taking the place of her facial features. In Koogle's description of these pieces, she talks about the idea of camouflage and how humans naturally disguise themselves from each other. Koogle combined her love for both nature and portraiture through these pieces.
Emily Jennings created a set of floral pastel drawings, in which she incorporated her admiration for her favorite artist, Georgia O'Keefe. These flower pieces
show Jennings' interest in working with nature and furthering her career to become a landscape design architect. These simple, colorful drawings will be sure to catch your eye as you make your way through the library lobby.
On the floor of the library stands a large (probably 6 feet or so in height), vertical display of various goofy pictures taken of Loyola
students. To go along with Loyola's signature colors, the photos are paired with a sign saying, "100 Shades of Grey…oh and green…" The pictures hilariously range from students holding up the peace sign, reading books upside down, waving at the person in the photo next to them or simply smiling kindly. This display showcases the student body's quirkiness, along with their artistic talent.
These are only several of many eclectic pieces of art featured in this exhibit. To view more, visit the Loyola Notre Dame library before December 12.
Feature Image: Georgia Lundberg Photo, Courtesy of Loyola University Maryland.