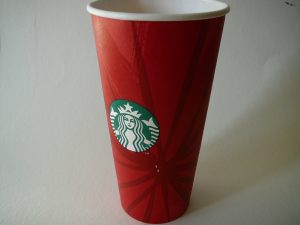 When Starbucks' annual red cups popped up on Nov. 1, people became outraged. It wasn't because the seasonal cups were already on display the day after Halloween to get an extra early start to the holidays. Nope. Rather a certain segment of Christians were offended by the simple, ombré design of the cups that Starbucks went with this year.
For those who haven't been in the loop, the controversy began when Joshua Feuerstein, who labels himself on his website as "an American evangelist, Internet and social media personality," uploaded a video accusing Starbucks of taking "Christ and Christmas off of their brand new cups." He encouraged others to start a movement with him and "trick" baristas into writing "Merry Christmas" on the cups by telling the employees that is their name. The video went viral, and soon enough people began claiming that Starbucks was starting a war on Christmas for designing a plain red cup.
Celebrities and politicians chimed in with their opinions on the cups, as well. Donald Trump suggested possibly boycotting Starbucks, but that he didn't care too much. However, he added "If I become president, we're all going to be saying Merry Christmas again, that I can tell you." Ellen DeGeneres sarcastically referred to the cup as a "Satan sipper" on her TV show and invented sunglasses with snowflakes on the lens so that critics can always see Christmas when looking at their drinks.
At Loyola, most students didn't think twice about the cups when they first appeared. "I think the controversy is silly," said Julianne Neuman '16. "It's just a red, seasonal cup. I doubt that it was ever meant to cause harm or insult."
This sentiment was actually part of the intention in the cup's design. Following the outcry, Starbucks released on its website the inspiration and background on this year's cup. The company explained, "Creating a culture of belonging, inclusion and diversity is one of the core values of Starbucks, and each year during the holidays the company aims to bring customers an experience that inspires the spirit of the season." Starbucks has over 23,000 stores in 68 different markets across the world.
The cup didn't have a design beyond the ombré because the company wants customers to doodle on the cups like many do on the regular, white cups. "In the past, we have told stories with our holiday cups designs," said Jeffrey Fields, vice president of design and content. "This year we wanted to usher in the holidays with a purity of design that welcomes all of our stories."
Starbucks is actually one of the few businesses that still incorporate the word "Christmas" into its stores. Each season they serve and sell "Christmas Blend" coffee. They also sell gift cards that say "Christmas" on them, as well Advent calendars and Christmas tree ornaments. While Feuerstein and his followers claim Starbucks took Christ and Christmas off the red cups this holiday season, but that isn't actually the case. Cups from the past ten seasons only had winter or holiday-esque drawings on them like snowflakes, carolers, and snowmen as well.
The controversy hasn't stopped the coffee chain from showing off its cups. Twitter users who use #redcups or #redcup will notice a mini red cup emoji next to it. Starbucks also announced that from Nov. 12-16 if you buy one seasonal flavor drink, you can get another seasonal drink for free, thus multiplying the amount of red cups in customer's hands which shows that the company is not backing down from the "red cup" controversy.
Feature Image: The Papercup and Sleeve's Photostream, Courtesy of Flickr, URL