This past year has been a roller coaster ride for many celebrity couples: Jennifer Garner and Ben Affleck, Kaley Cuoco and Ryan Sweeting, Charlize Theron and Sean Penn, and many more stars have decided to call it quits from long-term relationships. In many situations, however, new pairs emerge soon after these break ups…as is the case with pop music sensation Gwen Stefani, 46, and country singer Blake Shelton, 39.
In April 2014, Stefani joined the hit TV show "The Voice" along fellow judges Adam Levine, Pharrell Williams and Shelton. Stefani described joining the show as a "whole new, inspiring experience." As the season progressed, Stefani and Shelton made an appearance together on "The Tonight Show with Jimmy Fallon." Here, they performed a hilarious lip sync battle, sparking questions because of their undeniable chemistry.
Eyebrows continued to raise as Stefani and Shelton cozied up together on the set of "The Voice." In December, Stefani shared a selfie of herself and her co-worker to Instagram with the caption, "Love him," beside a heart emoji. Later that month, they continued to laugh and joke with each other, Stefani flirtatiously sitting on Shelton's lap or standing in front of him to block his view of the contestants.
In June 2015, it was announced that Stefani would return for her second season of "The Voice," beside judges Williams, Levine, and of course, Shelton. At this point in time, Stefani opened up about her experience on the show, saying that before joining "The Voice," she "couldn't really write. I wanted to, but my life was just so…I don't even know how to describe it…I couldn't write. It just wasn't happening and I was so insecure about it and then, it just opened up. It was like this channel just opened up." It seems as though Stefani's motivation came in the form of co-star Shelton.
This past August, Stefani shocked fans everywhere by divorcing her husband, Gavin Rossdale. In a mutual statement released soon after their breakup, the couple of 13 years asked the public to respect their family's privacy (Rossdale and Stefani have three sons together). Ironically enough, though, Stefani and Rossdale decided to split a mere month after Shelton announced news of his own divorce from country singer Miranda Lambert. The pair decided to break up in July, after four years of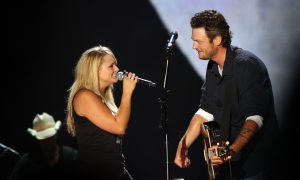 marriage. Many people doubt whether or not this was a simple coincidence.
Summer turned to fall and as Halloween arrived, Stefani and Shelton were photographed together at two separate parties. The pair was spotted holding hands at Jared Leto's soiree on Oct.30, before being seen cuddling at Levine's party the very next night.
On Nov. 3, Stefani made an appearance on Ryan Seacrest's radio show. When Seacrest asked Stefani about the Shelton romance rumors, she responded, "I'm not going to answer that right now, Ryan, I think I've given up enough of myself this morning to you." Stefani then playfully added, "I think he's hot, don't you?"
But there's more…on November 4, Stefani's spokesperson confirmed that her client and Shelton are in fact an item. "Gwen and Blake are longtime friends who have recently started dating," said Gwen's rep to Us Weekly. A few hours after this, the artists stepped out as a new couple after the CMA Awards.
What do the couple's costars think about Stefani and Shelton's new romance, you may be wondering? In an interview with Ryan Seacrest, Levine said, "I love my friends, and I support my friends through everything. I've been actually really enjoying getting to know Gwen better in the past two months."
Some people may roll their eyes at this new pair, who got together so soon after separating from their spouses. Others, however, may congratulate the couple upon finding new love. Despite how you feel, though, Blake Shelton and Gwen Stefani are now official.
Feature Image: Eva Rinaldi Photo, Courtesy of Flickr URL