From her time on "American Idol," Carrie Underwood has blossomed into a worldwide country music phenomenon. Her new album, "Storyteller," is classic Carrie style, ranging from edgy songs about flawed relationships to heartfelt ballads about success in love. This new album may be some of her best works yet. Underwood co-wrote five of the 13 songs on the album, once again proving her talents extend much beyond her strong vocals and ability to perform.
While some predicted her new album would be softer since the star just gave the birth to her son, Underwood's tracks will not disappoint her devoted fans who love her dramatic songs about broken relationships."Smoke Break" is the perfect first single for the album as it sends out the message that everyone needs a break now and then from the ups and downs presented in life, some of which Underwood clearly highlights throughout the rest of her album.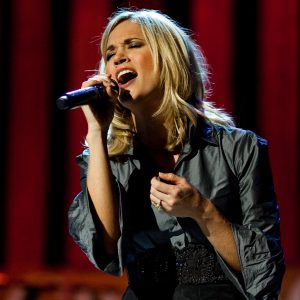 As for her softer songs, it is clear that Underwood's personal relationships made it onto the album in three of the songs that she co-wrote. "Heartbeat" is an ode to her husband and is a ballad that almost every listener can relate to, as it highlights the comfort of being with the one you love. As Underwood solicits the help of fellow country star Sam Hunt with vocals on this track, I predict this to be one of the songs that will have success as an independent track from the album as a whole. "What I Never Knew I Always Wanted" and "The Girl You Think I Am" are both beautiful songs that focus on the love present in her relationships with her husband, son and father.
this album is certainly not one with a shortage for Underwood's knack for songs about messy relationships. "Dirty Laundry" and "Church Bells" both deal with challenging relationships, and while they may be considered darker songs, they really do point out the strengths of Underwood's storytelling ability. Songs "Chaser" and "Relapse" both have a very cool style element to them as they begin slow, but then build up tempo as the song moves into the chorus. As if to say it's not all that bad, she also uses songs like "Clock Don't Stop" and "Like I'll Never Love You Again" to highlight that time is precious and while relationships may require work, it is all rewarding in the end.
Rounding out the album are three songs that standout from the others. One that I really enjoyed was "Runaway Renegade" which is a song about a dangerous temptress that Underwood is warning people to stay away from. Fans may recall the song as being similar to the males that Underwood warns women against in "Cowboy Casanova" and "Good Girl" from her previous albums. Finally, "Choctaw County Affair" and "Mexico" are two fun and upbeat songs on the album both focusing on interesting tales about characters who are running into trouble with the law similar to Underwood's, "Something Bad" duet with Miranda Lambert.
Underwood's latest album holds true to its title as it is the complete package of vivid stories, excellent vocals, and a story fit for every mood.
Feature Image: Thomas Hawk Photo, Courtesy of Flickr, URL