The Julio Fine Arts Gallery, Loyola's on-campus art gallery, is officially in its 30th year. The current exhibit, featuring Baltimore-based artist Michelle Dickson, runs from September 2-27. The gallery is open Monday-Friday from 10 a.m. to 5 p.m. and 12 p.m. to 5 p.m. on Saturday and Sunday.
Michelle Dickson's work has been displayed across the country from Atlanta, Ga., to Maine. Her current exhibition "Negotiating Absence" in the Julio Fine Arts Gallery explores memory through art. She has filled the gallery with mixed media swirls of driftwood and plaster.
Outside the gallery, Dickson's piece "Wishes and Vestiges," attract the attention of those passing by. Crossed fingers sit at the end of branches in a display case. The fingers could recall a promise, lost to duplicity. A moment in time between two people has been reversed, apparently not at all an unnatural act. These lies grow on trees.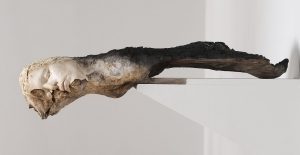 There is a double meaning to the piece that Dickson spoke about in her opening talk. She elaborated upon the crossed-ness of the fingers, describing them as promises rather than lies, while still giving credence to both.
This dual meaning is found in all of Dickson's work. She has often dealt with mortality and memory, two facets of our existence that nobody really has a handle on. These most recent exhibits contemplate human memory itself and the physical manifestation of it. She remembers what it means and feels like to remember, the way in which a time or a face or a place brings past experience to the surface.
Inside the gallery, faces rest amidst the ebb and flow of nature, their sitting cheekbones and quiet lips an easy visual resting place. Dickson created this uniform face with a cast of her own. These works are all self-portraits, but have a much different feel than a simple painted self-portrait. Dickson attaches her own face to the art with art flowing into the artist, and the artist into the art. There are swirls of driftwood mixing into the smoothness of the plaster skin. Two substances usually thought separate are now coming together through these mixed media pieces.
I was fortunate enough to catch Dickson in the middle of working with a photographer to capture her pieces on camera. She clasped her hands under her chin in motherly concern for the presentation of her work. Their imprint online is a form of memory itself. A digital one, controlled by uploads and Wi-Fi connection, but memory still. When Dickson goes to check those files later on, they will be neat and orderly. Listed by date or first letter, perhaps. This structure is not found in the art gallery today. There is no room here for deliberate, listed memory. Not when we're remembering, at least.