Why Larry Hogan was the right choice for Maryland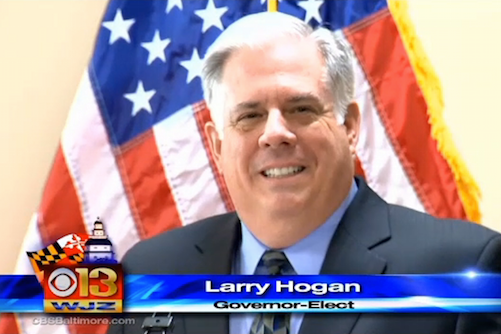 The citizens of Maryland made the right choice when they elected Lawrence J. Hogan Jr. the next governor of Maryland. He will put the brakes on the tax and spend regime O'Malley and his cronies instituted in the state. The new Governor-elect has never held political office, but is no stranger to politics. Hogan runs Hogan Enterprises, a real estate and development firm in Annapolis. He is also the son of former Rep. Lawrence Hogan (R-Dist. 5) and in 2011 founded the non-partisan group Change Maryland to make sure Maryland becomes fiscally responsible.
This mixture of private and political experience makes Hogan the perfect candidate for Governor. He can bring his financial expertise from the business sector and policy knowledge from running Change Maryland to a state that badly needs both.
According to the Washington Post, Maryland is facing a shortfall of almost $600 million in the next operating budget and possible gaps in years to come. This despite having a 27 cent tax on gas, a 9 percent tax on alcoholic beverages, a 6 percent sales tax, etc. I could go on and on about O'Malley's love of taxes, but I won't.
What we need now is deep budget cuts coupled with lowering some of the taxes. In his campaign, Hogan already promised to roll back the gas tax and repeal the rain tax. He will need to couple that tax cutting with defunding government programs, which might pose challenges to the future Governor. However, I think that with Hogan's expertise in running a business it should be easy for him to find areas in the state budget that he could cut. With Hogan's emphasis on fiscal responsibility Maryland should be back on its feet in no time.
Even long-time Democrats know that Hogan is the right choice for Maryland. The Baltimore Sun reports that Hogan won once-Democratic bastions in Maryland like Dundalk. A good example of Democratic voters supporting Hogan is Sharon Kyle, 63, who supported Hogan because "of the economic stagnation of the county's east side." Kyle told The Baltimore Sun that "[w]e need a resurrection" and she believes in Hogan because "[h]e's a good speaker. He's very sincere." This writer believes Ms. Kyle had a point. Maryland does need to rise out of the stagnation brought on by higher taxes and uncontrolled government spending. And Larry Hogan is just the man to do it.
(photo via)
Leave a Comment