Hopkins shuts down frat events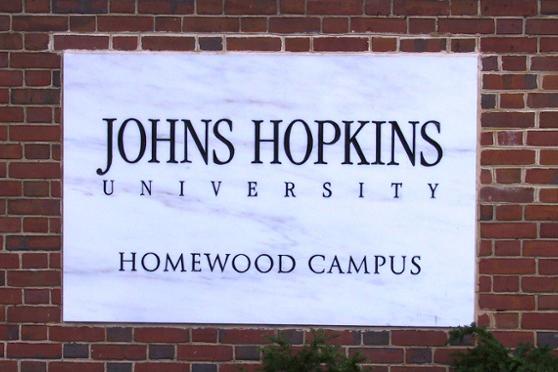 Halloween weekend turned tragic for a sixteen-year-old girl when she attended a party at a Johns Hopkins fraternity house. The girl, originally from Baltimore County, went to a party at the Sigma Alpha Epsilon house (on St. Paul St.) with her sister on Saturday night. While there, according to the Baltimore Sun, she was drinking and ended up in a bathroom with two older men. She was allegedly raped around 1:30 a.m.
This is not the first JHU rape in recent memory. The school was in hot water earlier this year after neglecting to notify its students of a gang rape reported at a fraternity house that had taken place months earlier. Failure to inform the students directly violated the Clery Act, which requires, among other things, colleges and universities to provide a "timely warning" to the community when a campus crime takes place and presents a threat to the community. The Sun reported that Hopkins students filed a complaint with the U.S. Department of Education's Office for Civil Rights because there had been no timely warning. They also felt that the school had not kept students safe because although the administration knew about an ongoing investigation, it allowed the frat to keep throwing parties.
Last week, however, Hopkins sent out a notification mere hours after the alleged rape took place, in the middle of the night. This is a marked difference in response from last year.
The school did not stop there, however. Sigma Alpha Epsilon was told to put all activities on hold for the investigation, and was then suspended for violations of policy (since the 16-year-old was drinking underage at the party, for example). Now, the Inter-Fraternity Council—a council of students that regulates Hopkins fraternities—has voted to ban all open parties at fraternities. This means that, at least for the time being, the houses can only host events that require invitations. Nothing informal is allowed.
So Greek life has been effectively put on hold. To some erstwhile partygoers, this may seem too drastic. After all, frat parties are a staple of nightlife at many colleges and a fun way to spend an evening without breaking the bank. Yet many in the Hopkins community are applauding the decision.
The Johns Hopkins Newsletter, for example, said on November 6 that the editorial board supports the verdict, commending the council "for both creating this directive and unanimously voting to enact it." The board continued, "Extreme circumstances, like the reported sexual assault of a 16-year-old, require a comparably extreme response – and we hope to see all IFC [Inter-Fraternity Council] members abide by this initiative and for the IFC to impose forceful sanctions on any violators."
During last year's scandal and subsequent investigation, Hopkins president Ronald J. Daniels insisted that "nothing remains more important to Johns Hopkins than the welfare of our students…" He also added that the university would "continue to take strong action to improve and to lead in this evolving area of the law and practice." It seems that this time around, the administration is keeping its word. The response, which truly has the best interest of the students at hear, is not drastic, but rather entirely appropriate.
(photo via)
Leave a Comment
Your donation will support the student journalists of Loyola University Maryland. Your contribution will allow us to purchase equipment and cover our annual website hosting costs.