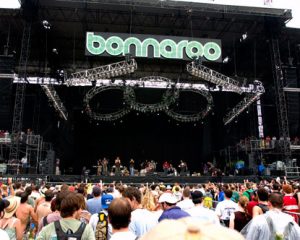 Bonnaroo is a music festival notorious for it's eclectic music and all around fun atmosphere. Held in Manchester, Tennessee since 2002, Bonnaroo has become a staple amongst the  festival music scene. With that said, I'm going to pretend I know music and put on my "pretentious music snob" hat to let you know some acts at this year's show that you should check out.
10. Phosphorescent – Phosphorescent is the solo project of Brooklyn based on Matthew Houck. Known for his calming, captivating sound, Phosphorescent is definitely on the rise. Check out his songs, "Song for Zula" and "Wolves" if you like Damien Jurado and The War On Drugs.
9. Cloud Nothings – Cloud Nothings is an indie-rock band from Cleveland. To get an idea of their style, check out their songs "I'm Not Part of Me" and "Psychic Trauma." If you like Real Estate and Japandroids, you'll like Cloud Nothings.
8. Haerts – Haerts is an up-and-coming Indie Pop group from Brooklyn. Lead singer Nini's haunting vocals makes this group sound like CHVRCHES and Charli XCX.  They have also recently opened for Washed Out and The 1975. Their songs "Wings" and "All the Days" will be sure to peak your interest.
7. Classixx – Los Angeles based DJ-duo Classixx have been on the rise in the last couple of years. Coming together from a mutual love for music, these two cite influences ranging from old-school R&B to Paul Simon. The duo is also well known for their vast remixing work.  Be sure to check out their recent album, Hanging Gardens, especially their song "All Your Waiting For" featuring Nancy Whang of LCD Soundsystem.
6. Washed Out – Washed Out (B. Ernest Greene) is an American singer-songwriter known for his trippy and chill electronic-pop music. Fans of the TV series, Portlandia will recognize his song "Feel It All Around" from the show. He has also reached success with his song "Eyes Be Closed" from his album Within and Without. If you like Neon Indian and Toro y Moi, you'll like Washed Out.
5. Robert DeLong – Robert DeLong is a Los Angeles-based electronic artist who has recently been rising to prominence. He is known for his uncanny ability to blend electronic sounds, alt rock riffs and vocals to make music that's catchy, yet distinct. Check out his songs "Global Concepts," "Happy," and "Basically, I" if you like artists like Modest Mouse and Youngblood Hawke.
4. A$AP Ferg – A$AP Ferg is a rising Hip Hop artist from Harlem. A member of A$AP Mob, this artist has found great influence from his childhood friend, A$AP Rocky.  Check out his songs "Shabba (feat. A$AP Rocky) and Work (feat. A$AP Rocky, French Montana, Trinidad Jamesand Schoolboy Q). If you like Chief Keef, A$AP Rocky and Schoolboy Q, you'll definitely like A$AP Ferg.
3. MS MR – MS MR (pronounced Miz Mister) is a New York based duo who have been noted for their overall Indie Pop sound. Compared to acts like Florence and the Machine, Kavinsky and Lana Del Rey, this duo has made waves with their songs "Hurricane" and "Think About You.
2.Vance Joy – An Alternative rocker from Melbourne, Australia, Vance Joy is a rising artist that all should know. His music has a light folk sound, filled with catchy lyrics and distinctive instrumentals. His EP God Loves You When Your Dancing features great songs like "Riptide" and "Emmylou." If you like Bon Iver, you should listen to Vance Joy.
1. Sam Smith – If you don't know Sam Smith, you can thank me now. He has been featured on Naughty Boy's "La La La" and Disclosure's club hit "Latch," both of which are no strangers to the Top 100 charts. He also recently performed on SNL, where he brought down the house with his songs "Lay Me Down" and "Stay With Me." This soulful Brit will leave you in awe with his incomparable voice. Be sure to also check out Disclosure, as they'll definitely feature Sam Smith in their set!
After you check out all of these acts and like what you hear, get your ticket for this three-day event, being held from June 12to 15. Just be prepared to go a few days without showering.