On Oct. 26, McGuire Hall at Loyola University Maryland buzzed with faculty and other willing listeners when President Terrence M. Sawyer addressed the State of the University. The address was quick and to the point, as President Sawyer only spoke for 45 minutes while presenting the university's strategic, four-pronged plan for Loyola's future educational standards, financial allocations, and social development. 
The address opened with an uplifting sentiment toward the collective of staff, faculty, and students who have allowed Loyola to be a place of personal and academic flourishment. Early on, President Sawyer discussed the university's highly anticipated academic submission of a Bachelor's of Science in nursing. As of now, Notre Dame of Maryland University, Loyola's nearest neighboring university, is the only institution that has raised an objection to the academic submission. That said, the proposed nursing program is projected to enhance the variety of academia offered at Loyola and strengthen the university's image. 
"I find our response to be overwhelmingly compelling and look forward to a positive outcome. We are creating this program to meet a significant state need, and it is absolutely a state need that we need workers to help take care of people who are sick and vulnerable," he said. 
President Sawyer also announced that the search for the next dean is afoot as well as the search for Loyola's very first Chief People and Cultural officer, who will be responsible for supervising human resources. This officer will play a significant role in executing portions of the strategic plan presented within the address, in addition to participation within the cabinet.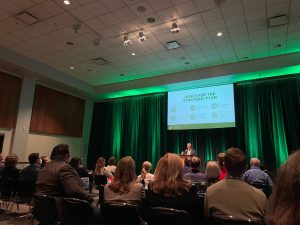 The address also announced updated university rankings. US News ranked Loyola in the number two spot for undergraduate teaching in the northern region. Loyola has gained additional national recognition among about 100 other colleges for having graduates who earn the most money. 
"I am the first to say it is a false premise to suggest that you gauge and judge success by how much money you make. That said, it is an indication of how the world of work values what our graduates have to offer," President Sawyer said.  
After a few brief remarks on the school's unique new class and budget costs came the introduction behind the current State of the University's four-part strategic plan. The creation of the plan was a collective of community participation and the input of a few key individuals mentioned briefly by name. 
The four categories of the plan were  Advance, Grow, Care, and Focus. For each topic, two sub-categories were named, all under the guidance of commitments such as diversity, inclusion, equity, justice and innovation, growth, and operational excellence. Throughout them all, the long-term goal of achieving student success remained consistent.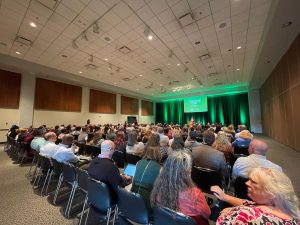 The vision statement, as said by President Sawyer, read, "With a steadfast commitment to student success, Loyola University Maryland is dedicated to transformational excellence. As a Jesuit Catholic university, we aim to lead with love and work for justice and are committed to being the best place in the world from which to change the world." 
The first two initiatives, which are meant to advance student and faculty formation, involve enhancing support for students and faculty, and advancing school spirit. The second is to grow Loyola's footprint, influence, and enrollment through graduate education as well as health and STEM. The third initiative emphasizes our role in caring for Loyola's common home by becoming leaders in integral ecology and cultivating a community of belonging. Lastly, the fourth initiative will help the Loyola community to thrive by investing in and supporting Loyola's team in becoming a destination employer and operational and digital transformation.