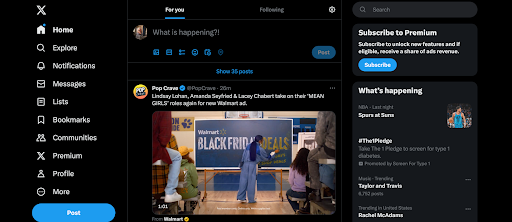 When asked if she would ever pay to use X, the social media website formerly known as Twitter, Elizabeth Gilmore '24 had a clear decision.
"Absolutely not," she said. 
The social network Twitter was founded in 2006 by NYU student Jack Dorsey and shot to popularity in the early 2010s. In April 2022, PR Newswire reported that Elon Musk, the world's richest man and billionaire owner of electric car company Tesla and spacecraft manufacturer SpaceX, struck a deal to purchase Twitter for $44 billion. The sale would transform Twitter from a publicly to privately owned company, the biggest of its kind in over 20 years. 
Musk was outspoken about his plan to buy the site, sharing his plans and opinions for Twitter in interviews and tweets. However, following his bid for the site, Musk endured months of chaos and disorganization that almost cost him the company, relying on ironclad confidence and an expansive group of trusted executives from his various business ventures. On Oct. 27, 2022, it became official: Elon Musk was the new face of Twitter.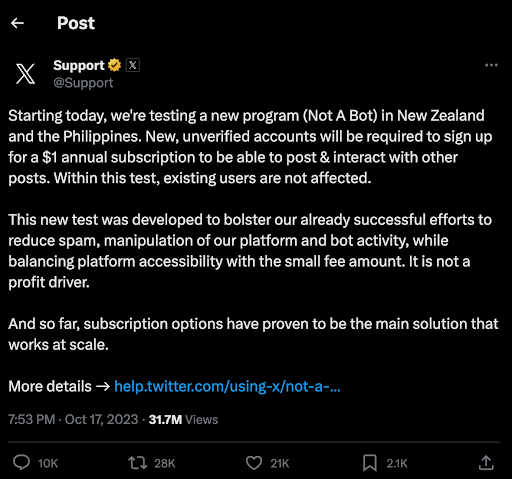 In the 13 months since Musk has owned Twitter, which he renamed X in July 2023, it has undergone distinct changes that have caused controversy amongst long time users and the general public.
"When Jack [Dorsey] owned [Twitter], it felt like it was trying to innovate and stay unique and new, but not copy anyone. It just felt like a fun place. You didn't think about who owned it," Gilmore said about her experience on the website, which she joined in high school. 
On Oct. 17, Fortune reported that X will begin charging new users $1 per month to access essential features such as tweeting, retweeting, and replying. The company confirmed this report and clarified the details with the tweet below. It is unclear if X will implement this program in other countries. 
Although Insider Intelligence reported in August 2023 that TikTok, Snapchat, and Instagram are the primary social media sites for Generation Z, Twitter still had a loyal following in the demographic, especially for those involved in specific fan communities. But recently, some Loyola students have noticed changes in their experience on X.
"It feels like just being on Twitter can be a statement, especially with so many companies leaving Twitter to try and make a statement. It's just uncomfortable that the verification is now something you have to pay for," Gilmore said.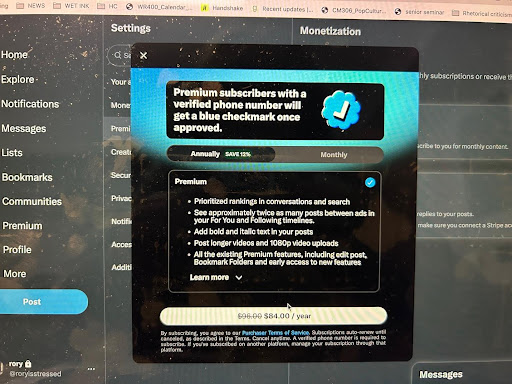 Gilmore is referring to a 2021 program formerly known as Twitter Blue in which users could pay for the blue checkmark next to their display names to indicate verification. The perks are described in the image to the right, which can be found in the settings of any X account. It costs $8 per month. Professional organizations, like sports teams or government agencies, have a gold checkmark to indicate legitimacy.
On the other hand, Jake Taylor '25, who's had an account for around two years, has not experienced a major change in his user experience. 
"It really seems pretty similar, at least in the way that I use it. Even when everyone was complaining about all the initial glitches when [Musk] took over, I got on it to see if I could get a glitch, and I didn't. It's been pretty consistent for me," he said.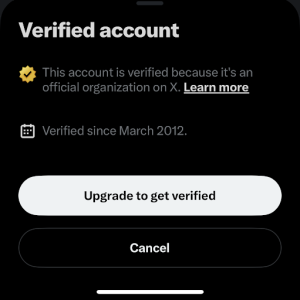 Taylor uses the app around once a week to see how elected officials in American politics react to U.S. and national news. 
"I can't even say that there's been a change in the type of content that I see or that's been allowed. People expected Elon to change [everything] and other than unbanning [former president Donald] Trump, I guess, there's not really much that I've noticed different," he said. 
Perhaps Taylor's experience stems from his infrequency on the website. On Oct. 23, Slate reported that in the year that Musk owned Twitter, the site lost around 13% of their daily active users.
Despite their differences in user experience, both Taylor and Gilmore had the same opinion on the topic of personally paying for Twitter.
"I would never…that's just silly," Taylor said.