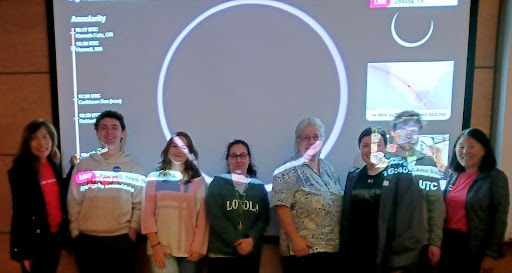 On Saturday Oct. 14, the moon passed between Earth and the sun, marking the beginning of the annular solar eclipse in which the path of totality passed over the United States. Baltimore did not have totality, but rather a 28.6% obscuration. However, the dark and rain that day didn't stop Loyola students and faculty from celebrating the occasion. 
The Astronomy Club hosted "Eclipse Week" events throughout the week, which included a lecture with NASA Associate Director for Science, Dr. Alex C. Young. Young hosted an eclipse livestream viewing event, while Loyola's Dr. Inge Heyer helped organize the club's event on campus.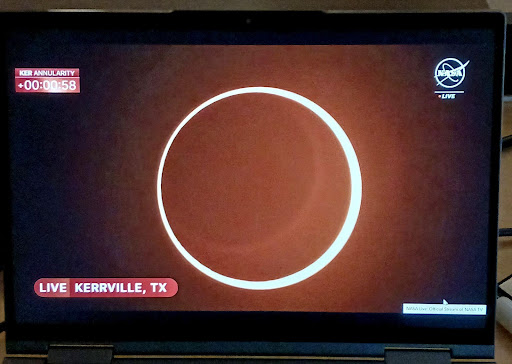 "We had two live streams going on simultaneously, both of which our speaker from Wednesday recommended to us. We were watching NASA's live stream, along with timeanddate.com, which was actually much better. They had few talking heads and commentary and just showed the view of the eclipse from many different locations that you could check in on it in real time. It was pretty amazing," Dr. Heyer said.
After this eclipse, astronomy enthusiasts have their sights set on April 8, the next annular solar eclipse that will be visible to us, and it's expected to be a pretty special one in Baltimore.
"For the 2024 April 8th eclipse, it's going to be about 88-90%, which is what we would call a deep partial. So you will really see the effects of the light changing that you won't get with this one…You'll get to experience many more effects. It will get darker suddenly, the temperature will noticeably change, animals may act differently, thinking it's night time, and so on," said Dr. Alex C. Young.
Dr. Heyer spoke more about the approaching spring eclipse, explaining different ways that it will be visible.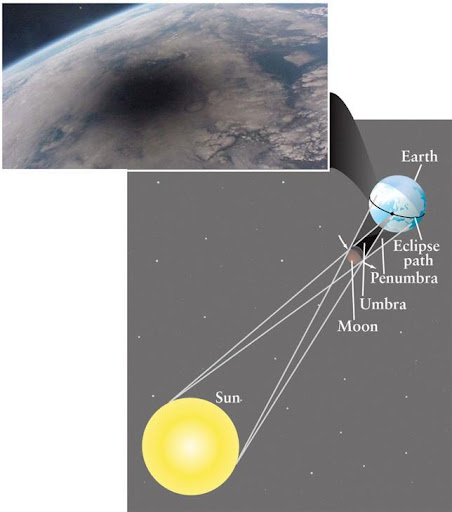 "It's a skinny crescent. The experience is not like complete totality, but we can still see a lot of the phenomenon. I don't know if you've read online at all, but for that April one, when you look at shadows from trees and bushes and whatnot, they will all take the shape of the sun. There will be a ton of small crescent shaped shadows all over," she said.
It is not often that a solar eclipse's path is right over the U.S. and is visible to so many people, which is why Dr. Heyer emphasizes the importance of viewing the eclipse.
"It's so important to understand what's going on: the simple fact of the moon going in front of the sun, and to be able to appreciate that. It's about appreciating nature really. And I mean, sad story, but a staggeringly large number of people in this country don't even know the Earth goes around the sun. It's important to understand these things and the world around us," said Dr. Heyer.