This year's fall Evergreen Players production is "You on the Moors Now," a play about the adventures of the heroines of classic 19th-century novels and their male suitors. It is guest-directed by Melissa Freilich, a Baltimore director, teacher, and fight choreographer. 
The play follows what happens when the heroines of "Little Women," "Pride and Prejudice," "Jane Eyre," and "Wuthering Heights" reject their suitors and journey on to discover more about themselves. While these characters are from books that occur during the 1800s, there are also many modern additions included in the play. Cast member Matthew Gamerdinger '24 plays Mr. Darcy in the show and has enjoyed the twist on classic stories. 
"There's a lot of contemporary elements of the show. There's swearing and references to modern pop culture. Finding a way to justify those two existing with each other and finding ways to present that in a way that feels natural has been challenging but also really interesting and fun," Gamerdinger said.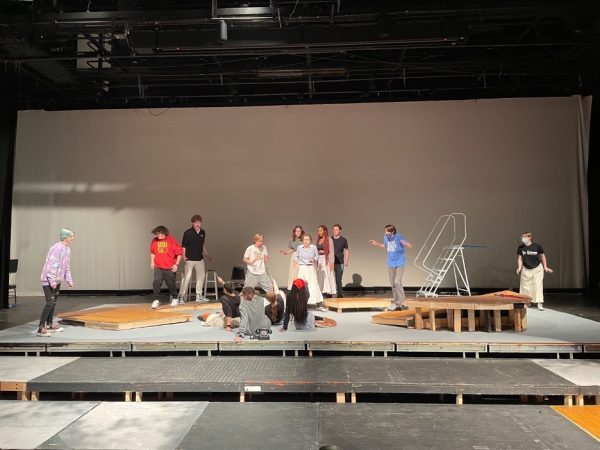 Freilich works with both professional and university theatres and is also an instructor for Dueling Arts International, a non-profit organization dedicated to teaching theatrical combat. She thought the comedic cleverness of this play made it perfect for Loyola. While this is her first time directing a show here, she led a stage combat workshop in the Black Box Theatre in April 2023. She used her stage combat experience to choreograph the play's big battle scene. 
Gamerdinger has both acted and held crew positions in productions every semester since starting at Loyola. He spoke about why he has enjoyed working with Freilich. 
"She's very considerate, especially since there's a lot of physicality that's involved with this show. She's just very concerned with making sure everything is running smoothly, and everything is planned out in a precise way that makes the actors and everyone involved feel comfortable, but also giving us room to experiment and try new things, which I really appreciate." 
Robin Hoy '24 has held positions in publicity and props design in multiple productions, and stepped into one of the assistant director positions for this show. She spoke about her experience working with the guest designers and mentors such as a dialect coach, dramaturgical mentor, and professional lighting, set and costume designers. 
"There's so many fascinating elements that have been brought up for the show. It gets an insight of working with actual professionals in the field and that have such cool ideas and designs that it's been really fun to see," Hoy said.  
Hoy said the play has been one of the most fun productions she's worked on and that it has a lot for everyone. She encourages people to see the show, even if they are not necessarily interested in theatre. 
"If you grew up reading any of the books, you'll love it. If you have briefly watched the BBC version of 'Pride and Prejudice,' you'll also love it. If you have no idea who any of them are, that's also okay, and it still will be so enjoyable," Hoy said.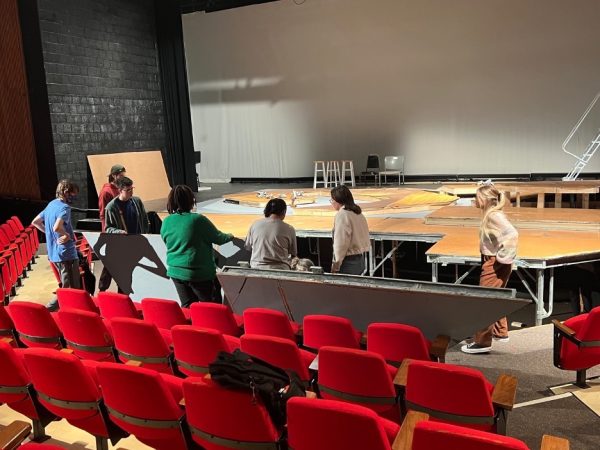 There will be a display created by the dramaturgs in the McManus lobby that audience members will be able to explore before and after the show. Mac Ferrone '25 and Ange Dickson '25 are the show's dramaturgs, a position that involves researching and understanding the play to provide the cast and crew with important contextual information. Freilich is excited for audiences to see their work and preview some of the play's ideas and references. 
"If you love 19th century novels, come for the 'Jane Eyre' and stay for the jokes about space camp. If you hated being forced to read 19th century novels in high school, come for the lightsaber battle and stay to find out that 'Wuthering Heights' is actually badass," Freilich said.
"You on the Moors Now" by Jaclyn Backhaus will be performing in McManus Theatre on Nov. 16 at 7 p.m., Nov. 17 at 8 p.m., and Nov. 18 at 2 p.m. and 8 p.m.. Tickets are on sale at the box office and online. For more information about the Evergreen Players and their productions, check out their Instagram.