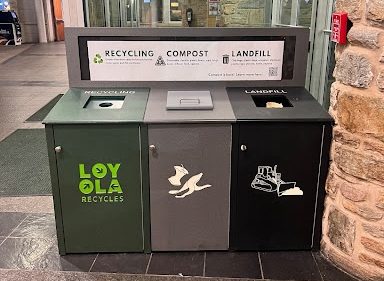 In an attempt to become more sustainable, Loyola has incorporated composting on campus. For the first time since the pandemic, students are able to seamlessly compost food at campus' dining halls. 
As students are acclimating to being back on campus, it is important to learn what can actually go into the compost bins found in eating areas. 
Composting is the process of recycling natural materials into products such as soil or mulch. According to Shelia Hu from the Natural Resources Defense Council, there are many benefits to composting.
 "Food scraps and garden waste combined make up more than 28 percent of what we throw away," she said.  
When one composts, it prevents waste from going into the landfill and saves the funding that it costs to dispose of the waste. It is crucial to be very deliberate about what you are composting, as one misplaced item can contaminate the whole batch of compost. Loyola strives to make campus as sustainable as possible and inform students how to take care of the planet.
In order to promote sustainability on campus, Loyola has reintroduced composting into Boulder, Boulder 2.0, and Iggy's. The Director of Sustainability at Loyola, Tracy Harvey, gave some insight about our mission to become more sustainable.
 "Through reuse, reduce, recycling, and now composting Loyola is working to divert as much waste as possible from the landfill. Compost is now offered in dining locations and all dining ware provided by Parkhurst at Boulder, Iggy's, and the Green & Grey café is also compostable. We hope that modeling this behavior on campus will promote our students, staff, and faculty to make more sustainable decisions when it comes to their own footprints," said Harvey. 
In and around these locations, there are garbage stations where you have the option to recycle, compost, or put waste in the landfill. Some of them might even feature descriptions or images of what waste belongs in each bin.
The United States Environmental Protection Agency states that foods such as fruits, vegetables, meat, tea bags, coffee grounds, and more are able to be composted. When it comes to non-food related items like cardboard, napkins, greasy boxes, and the cups, containers, and silverware provided by the dining hall are able to be composted as well.
Any kind of liquid, plastic, styrofoam, glass, or aluminum will contaminate the compost and therefore cannot be composted because they are not biodegradable. A biodegradable product is one that has the ability to be broken down by natural organisms. By eliminating the need for additional effort, expenditure, time, or resources to dispose of waste, no further harm to the environment is caused. 
 If you ever find yourself wondering whether an item of which you need to dispose is compostable, think of the saying "when in doubt, throw it out."