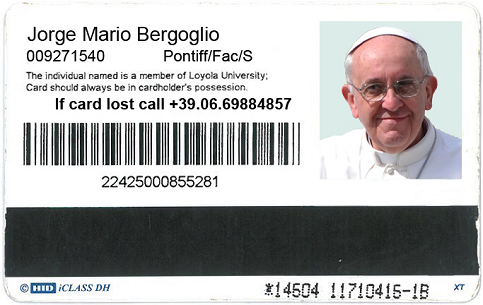 Wednesday, March 26, Pope Francis made a peculiar midday announcement. After a great year, he stated that he would be "leaving the Vatican." He has always had an admiration, as he discussed, of missionaries and the effort to teach all people about religion and the "love and mercy of God."
With such admiration and ambition to educate all people, he has decided to start with the younger generation, which is known for often practicing more of a spiritual type of faith than religious. He is leaving the papacy in favor of presiding over "America's Leading Jesuit University." Pope Francis will be taking over Loyola University Maryland as president.
The action was both a shock and surprise to the global population, and perhaps disappointment from the letdown of the hope to have Pope Francis as the leader of the spiritual community for the coming years. For the Loyola community, though, it was an announcement that resulted in exuberance. Father Lion Brinnane, S.J., current president of Loyola University Maryland, when approached about the change, only said, "How could I say no to the Holy Father?"
Francis will be instated as Loyola's 25th president in July of 2014. His attention was called to Loyola University Maryland after the university held a symposium on Tuesday, March 18, 2014 called "The Francis Factor." The event was deemed a "historical gathering" by the Archbishop of Baltimore, William E. Lori, and garnered notice from the Pope and the public to the institution that seems to identify with all that Pope Francis stands for.
Seeing this population of students that is already geared toward Jesuit thought and lifestyle, the Pope views the opportunity to lead the institution as a huge step in reforming the church—from a different angle. Since a decent percentage of the upcoming generation has turned toward a more spiritual belief than a religious one with "moralistic therapeutic deism" the Pope finds it important to make a change from that level up. He is not a proponent of this type of belief. Pope Francis said, "The best way to create reform and face all issues of the church is to work directly with the people." He believes that Christ will be a component assisting his reform—both directly and indirectly. Pope Francis is hoping to eliminate the gap between the spiritual and religious in today's polarized society and he is going about it in a missionary manner.
It will be interesting to see what other administrational changes will be made in the coming years. However, the biggest question remains: will Pope Francis keep the title and name he chose for his time as Pope? Or will he go by his birth name, Jorge Bergoglio?