Loyola's clubs kicked off the academic year at the annual Activities Fair on the quad during the second week of classes. Several clubs have recently changed the way they operate to increase membership and provide more opportunities for students to get involved.
Crochet for a Cause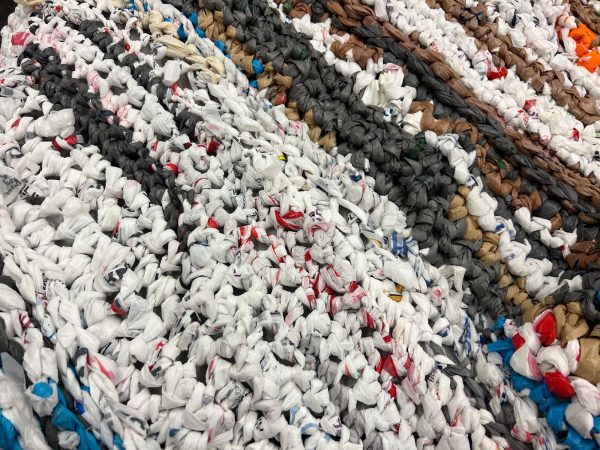 Crochet for a Cause is one example of a smaller club on campus that is looking to evolve this year. Co-president and Secretary María López '25, describes the club as the center between sustainability and art. Members recycle plastic bags, turning them into balls of plarn (or plastic yarn) which they use to crochet bed mats for people struggling with housing insecurity. 
The club's executive board plans to focus more on outreach this year. They are considering asking for yarn donations to crochet winter accessories such as scarves, beanies, and socks to donate along with the bed mats. 
López describes the weekly meetings as a relaxing start to the week, consisting of crocheting while watching a movie or series, or listening to music. 
"We're trying to revamp the club a little bit, trying to catch some more interest, and we just look forward to seeing what we can do in the community!" she said. 
Crochet for a Cause meets every Monday from 8-9 p.m. in Maryland Hall 440. Join the group on the Bridge to receive email updates and follow their new Instagram account @loyolacrochet. 
Forensic Science Club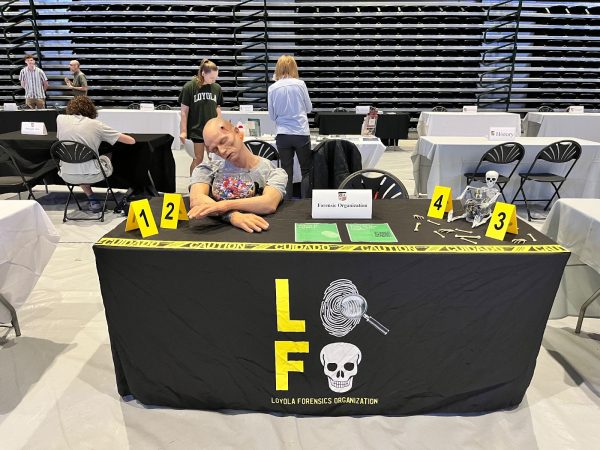 The Forensic Science Club has an academic focus but is not exclusive to students studying within the forensics department. This club hosts biweekly meetings and events ranging from true crime movie nights to guest lectures. The executive board works to bring fun to the field in events that are exciting for members. 
"One of my favorite things that we do is we'll have influential people in the field of forensics come, and there will be a guest speaker for us," said Lexi Jackson '24, president of the club. 
Last year, the club hosted a Women in Forensics event during Women's History Month to commemorate influential females in the field, with guest speakers such as forensic researcher Dr. Ann Burgess. 
The Forensic Science Club is looking into collaborating with other clubs this year to attract new members and plan off-campus events. While the president is a Forensic Studies minor, she does not necessarily want to have a career in the field and considers this a fun way to take this subject outside of the classroom. 
Jackson said that sometimes students believe they must have a major or minor in forensics studies to participate in the club's activities, clarifying, "We're really trying to get rid of that misconception and prove to people that you just have to have an interest in forensics."
If you are interested in joining the Forensic Science Club, sign up through the Bridge to receive emails with more information, and follow the club on Instagram @loyola_forensics. 
Loyola Improv Troupe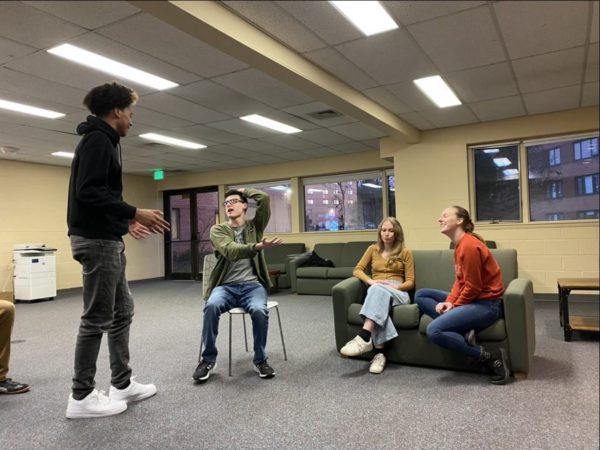 The Loyola Improv Troupe is a performance group that allows students to express themselves through improvised comedy. 
Member Katelyn Folmer '24 said that during practices, "We end the scene, and we go back and reflect on what we did well and what we didn't, so we are always interested in getting better, which I think is cool." 
The Loyola Improv Troupe has high hopes for this year. Their main goal at the moment is to spread awareness of their group on campus by producing their improv showcases and garnering a following on social media, but they also intend to reach out to other improv clubs in the Baltimore area to support each other's performances and collaborate. The club held its first showcase during the Spring 2023 semester and hopes to continue having them every year, even discussing the possibility of holding one each semester.  
Folmer advises anyone interested in exploring improv to come to a meeting. "Our meetings are so chill and there's not a lot of pressure. You don't have to be good at improv; you don't really even have to know what improv is," she said.  
She was initially drawn to the club as a way to improve her improvisation skills while meeting new people. She said she has made new friends while growing even closer to those in the group she already knew. 
The Loyola Improv Troupe meets on Friday evenings, typically in the Avila common lounge or the volleyball court between Dorothy Day and Southwell, depending on the weather. For more information on meetings, follow their Instagram @loyolaimprovtroupe. 
Walk-ins are welcome for each of these clubs and prospective members can join at any time. There is at least one club for everyone on campus, with over 150 covering interests such as the arts, community service, science, sustainability, language, and more. Students can search for clubs that suit their interests by using the Bridge, or reach out to Student Engagement if they are interested in forming a new club.