Loyola Students Leave Behind Personal Effects, Seek Jesuit Way of Life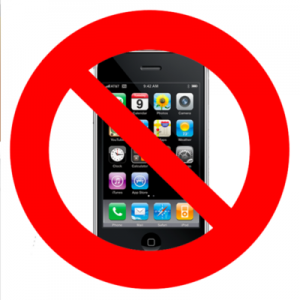 Following the lead of Jesuit thinkers, Loyola students campus-wide have begun rejecting their personal luxuries, seeking a simpler, more spiritual way of life.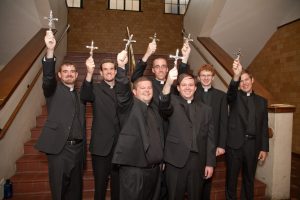 This trend began when Abby Compactor, class of '15, was assigned St. Ignatius' Spiritual Exercises. "After reading the book for class, I realized the lack of reflection at Loyola," she says. "I spent a month in the woods behind Newman, contemplating the life and sacrifices of Christ. It was invigorating."
When she had returned to her dorm, Compactor began throwing out all of the material goods she had amassed. "I went on a rampage," said Compactor. "iPhone, laptop, tablet, all in the trash. They distract you from the larger picture – from God and eternity."
Her actions, deemed radical at first, caught on like wildfire. A group of female students in Dorothy Day Hall burned their Longchamp bags on the volleyball courts. An entire floor in Newman Towers discarded their March Madness brackets. Profits at the on-campus Starbucks plummeted, with students deeming coffee "muddying [sic]" in the search for spiritual perfection.
"[Abby] just looked so…enlightened," says Brandon McCartney, '16, noting Compactor's change in composure. "There's something to be said for leaving these…things behind for the lord."
"I don't have to check my phone anymore," says Kendra Albertson. "I'm free at last!"
Attendance at Sunday mass has nearly sextupled as students have adopted faith with a never-before-seen fervor.
"We've never seen so many applications for Campus Ministry before," says Father Brule, long-serving member of the spiritual community at Loyola. "We'd need an entire diocese in order to get everyone placement. I…I don't get it. Is it some sort of prank? Is this a Punk'd?" he wondered aloud, wiping sweat from his brow
Father Brule isn't the only one feeling rattled these days. The theology department, initially thrilled by the rise in student interest, has been recoiling a bit. "It was great at first," says theology professor Chris Dangle. "I have never had students read Augustine's Confessions cover to cover before…ever. But these arguments over the tenets of the Manichaean heretic religion are…well… sidetracking? I mean, it's better than texting in class. Oh what am I saying," said Dangle, rubbing his temples. "Where am I?"
The York Road bar scene has suffered a rather large hit in light of this sweeping tide of piety. "What gives," asked Lydia Moore, bartender at a local drinking establishment, scratching her head. "We served twelve people last Friday, and two of them ordered wine."
"At least no one has puked in my cabs in a few months," says Tom Harrison, cab driver, with a shrug. "I miss the money, but I mean, hey, no throw up."
"Between prayer, meditation and my studies, I couldn't imagine spending a night out drinking," says Compactor. "I used to use my parents' money for drinks and cabs – that was before I had seen the light."
This rejuvenated sense of community and faith has spilled over into the greater Baltimore community – now 98% of the Loyola population actively participates in regular community service, with the remaining 2% being professors and faculty. "I used to think it was all about me: my GPA, building my resume, landing a job at a cozy firm," says Will Rex, '14. "I now realize it's all about following in the footsteps of Christ, fraternity and caring for the less fortunate – Hosanna!"
Whether or not "Neo-Loyola-ing" is a passing fad like 'planking' or 'Harlem shaking' has yet to be determined. At the moment, no other local universities have caught on to the trend. "It's nice that we're not the 'weird' school anymore," says Jacob Bright, Johns Hopkins '17. "I could get used to this."
Leave a Comment
Your donation will support the student journalists of Loyola University Maryland. Your contribution will allow us to purchase equipment and cover our annual website hosting costs.