Roadmap to Law School: A Guide for Undergraduate Students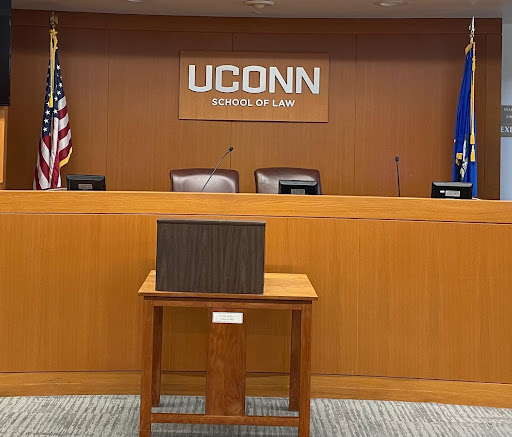 ​​The following represents the opinion of the student reporter and does not represent the views of Loyola University Maryland, the Greyhound, or Loyola University's Department of Communication.
As an undergraduate student, deciding to attend law school can be a major life decision. This choice can be daunting for students who are stressed out by classwork and the prospect of continuing their education for three more years. However, pursuing a Juris Doctorate degree could be very rewarding for students pursuing a life in justice or serving a purpose larger than themselves. Dr. Matt Beverlin, the pre-law advisor at Loyola, describes the variable and rewarding nature of a law degree. 
"It's not for everyone, and the field is evolving like all others though perhaps slower than most. Still, few careers offer the flexibility and dynamic day-to-day work of lawyering. The range of law jobs is truly staggering, from teaching to trial work to working for a non-profit to big law," he said. 
After deciding to pursue a Juris Doctorate degree, it is paramount to begin navigating the law school admissions process early. This means researching law schools and their admissions requirements, as well as taking the Law School Admissions Test Exam (LSAT). Ideally, you should begin this process at least a year before you plan to attend law school. This is not a period where students should be overly concerned with law school plans, maintaining a high GPA is still paramount. Additionally, students should begin to casually study for the LSAT exam. Taking diagnostic tests is a great resource for assessing a baseline score and measuring improvement. There are numerous courses for sale, in addition to the free courses provided by the Law School Admissions Counsel that can help improve these scores.
Jasmine Diaz '23, a senior at Loyola who is attending law school, advises students to study early for the exam. 
"It's best to study for the LSAT at least four months prior to your scheduled test and start looking at your schools early, based on your credentials. Speaking to peers and advisors also allows for a smoother process to occur," she said.
In my personal experience, I would recommend taking the LSAT early in the year, possibly in February of your junior year (granted that you plan to attend immediately after graduation). This allows an excess of time to receive your scores back and make the proper corrections before the next exam.
As the exam approaches, it will most likely consume almost all of your available time. This will seem overwhelming; however, dedication will certainly reward you as you are seeking acceptance.
The Law School Admissions Test
The LSAT is graded on a scale of 120 to 180, with the average score being around 150. The exam is portioned into five sections, of which four are scored and one is an unscored writing sample. The four scored sections consist of one reading comprehension section, one analytical reasoning section, and two logical reasoning sections, each of which is timed at 35 minutes. The fourth section is not graded and is experimental. It is often an additional logical reasoning section. The unscored writing sample is also timed at 35 minutes. The writing sample is crucial however, it allows law schools to see an unedited writing sample. Additionally, it grants the schools a further glimpse into how you respond under pressure as a prospective lawyer. 
The logical reasoning section consists of approximately 24-26 questions that test your ability to analyze and evaluate arguments. You will be given a short passage followed by a question that requires you to identify an assumption, flaw, inference, or conclusion. I found these questions to be the most difficult overall. 
The analytical reasoning section is also known as "Logic Games." The section consists of approximately four logic puzzles with five to seven questions each. These puzzles test your ability to understand a set of rules and apply them to a group of variables in order to solve a problem. A typical question may ask you to order a set of items. It will include three sets of rules that all your answers must abide by. For instance, it may give the rules, "Item A and item B cannot be directly next to each other," "Item B must come before item E in the order," and "Item E cannot be 3rd or 6th in the order." These questions are typically the most challenging for beginners, however, there are many tips for improving your score. The questions can only be structured into about ten different patterns; it is possible to identify what pattern each particular question is. This will give crucial insight into how to solve them. 
Lastly is the reading comprehension section, this section consists of four passages, each with 5-8 questions. The passages cover a variety of subjects and assess a student's ability to comprehend, analyze, and draw conclusions from advanced written material. These passages can range in topics between medical studies, works from the social sciences, or historical literature. This section is one of the most important to law school administrators, as lawyers must have strong reading comprehension skills. 
Finally, the ungraded writing section is an essay that is not scored but is sent to law schools along with your LSAT score. It is a persuasive essay in response to a provided prompt. You will not know what this prompt is prior to the beginning of the exam. Generally, it will be a prompt that requires you to pick between two sides and defend your position. Neither side in each argument is better to side with, it only is judged on how well you defend your positions.
The Application Process
After moving on from the LSAT exam and hopefully reaching your goal score, it is important to research schools that you are interested in. The LSAT website has a tool that can search for appropriate schools and estimate your likelihood to be admitted. This website will be where you prepare most of your applications. In addition, every law school is required to publish a list of disclosures, known as the ABA 509 form. This form provides a plethora of information about acceptance rates, attrition rates, and scholarship rates.

These schools should be added to the list under your "schools I'm applying to" tab. Generally, around the first of September, schools will open their application. Beverlin explains how more preparation could be required than what appears at first glance. 
"The act of applying itself is a relatively minor one, it's the school decision, resume building, personal statement writing, and gathering of references that can take time," he said. "For instance, law schools prefer an applicant who has such experiences as leadership roles, law-related internships, and writing experience. All of those things take at least many months to acquire."
You should apply as soon as you can after these applications open. It may be a time crunch to get these in and you will most likely not hear back until Christmas anyway. You will, however, be at the top of the list on the admissions counselors' desk. Applying early can potentially give you a higher chance of receiving an acceptance in comparison to applying later in the cycle. It will not forgive terrible scores or GPAs, but it could help slightly. In addition, this will limit the anxiety of the waiting period. 
The applications themselves are fairly standard and will ask about family history, employment history, academic history, and character and fitness questions. These character and fitness questions will establish whether you have ever had a criminal history or any questionable academic violations. If you have a criminal history or academic violations, it is not an immediate rejection from the school. Most will require an additional addendum to explain the circumstances surrounding the situation. I would also recommend writing the supplemental essays that are offered whenever you can. These are essays that are about 2 pages in length and will ask you to respond to a specific prompt. 
Sarah Bohenek '23, a student at Loyola pursuing a law degree, describes the importance of supplemental essays. 
"A lot of law schools require supplemental essays which take time to research. I believe these essays can sometimes make the difference between acceptance and not," she said.
Additionally, applications will also cost quite a bit. The LSAC will collect $45 per application you send. Some of these schools will also require an additional fee. I have found that in almost all circumstances if you demonstrate an interest in the school (i.e. take a video or in-person tour, schedule a call with admissions representatives, or even send an email asking thoughtful questions), they will often send an application fee waiver unprompted. If this fails, you can always email the schools and ask nicely for a fee waiver. Please use this at your own discretion, although this has never failed me.
The Waiting Period
After submitting your applications, you can mostly relax and attempt to control your impending anxiety. It will be difficult to fight the urge to slack off, following these submissions. It will also be difficult to avoid constantly checking your email and updating your status checkers. It will take anywhere between four and eight weeks to hear from law schools. There are plenty of resources that will help you gauge when to expect responses. It will certainly be exciting upon success and morose upon rejection. However, it is normal and should be expected to see some rejections. I would advise anyone who is accepted by all of the law schools they applied for to aim higher and reapply to more difficult schools. 
After compiling your acceptances, the serious role of deciding what law school to attend is next. The importance of each factor is a personal decision and should be discussed with your family. In my experience, the schools, proximity to home, reputation, and rank, alumni network, faculty expertise, programs, and cost with scholarship should all be considered.  After Bohenek, who is attending Emory University School of Law next fall, 
"Trust your gut on what school you feel is the best fit and don't worry as much about rankings and what people online are writing. The best fitting place will allow you to succeed in a way that a higher ranked one may not have."
In general, scholarship information is sent out approximately six days after your acceptance. The scholarship is often put in an amount-per-year format. Some of these schools will offer high scholarships that are conditional. This means that you must maintain a certain GPA each year or the scholarship amount will be reduced. At a brief glance, this may seem alright, however, law schools often implement an institutional curve. This curve will reduce half of the class below a certain GPA. This will give you a 50/50 chance of remaining on scholarship beyond the first semester. 
Leave a Comment