Loyola Celebrates Asian Culture at Asia Fest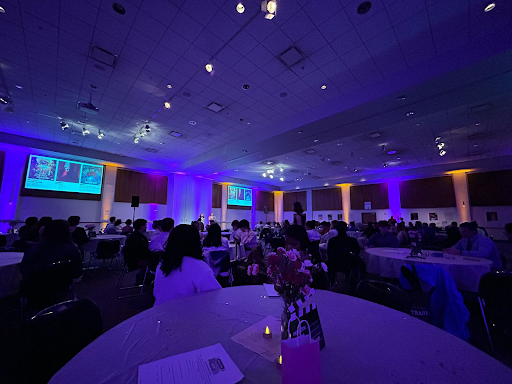 Students packed McGuire Hall for Asia Fest on April 28, the annual celebration of Asian culture and cuisine put on by the Asian Cultural Alliance. The event was planned meticulously for months. Heidi Chow '23, vice president of ACA, spoke about the preparation, 
"We started planning this out since the start of the semester. I am definitely happy with the turnout," Chow said.  
People filed in with their formal attire, wearing dresses, blazers, and ties.  A photographer snapped pictures on a red carpet and throughout the event. There was also a photobooth and popular music created by Asian artists was being played as all the tables in McGuire Hall were quickly filled. 
The night began with an acknowledgment of the recent accomplishment of Asians within the arts. Among those being celebrated was Michelle Yeoh, the first Asian actress to win an Academy Award for Best Actress. BTS and Silk Sonic were also recognized for their massive success and numerous Grammy and AMA awards. 
From there, Korean Pop Motion, an award-winning dance group from Johns Hopkins, performed. The Korean dance group was met with raucous applause as they danced to pop hits. Soon after, the Greysounds took the stage and performed two songs. 
Many of the people there were looking forward to the food. There were dishes from China, Japan, the Philippines, Korea, and India. Salvri Manalansan '24 spoke on the food served at the event. 
"As a Filipino myself the lechon kawali is something I was definitely looking forward to all night, the lumpiang shanghai was great too."
As people ate, Loyola's Jiu Jitsu Club began their demonstration of martial arts. Everyone in attendance seemed to love their showing, clapping loudly as members of the club showed off various techniques. There were audible gasps during the performance when one member of the club hurdled over two others. Jonathan Camaya '24 was taken by their performance.
"I really enjoyed the Jiu-Jitsu demonstration, it was beyond impressive seeing them do flips and rolls and disarm one another. I don't know if I'd be able to do anything like that," Camaya said. 
As the night began to wind down, dessert was served and the votes were counted for various awards, such as best dressed. Some of the night's activities also were brought to a close and prizes were handed out for the trivia contest which had been taking place throughout the night. Camaya reflected on the night.
"I'm really happy I went, this was a lot of fun and they really outdid themselves putting on an event like this," Camaya said. 
The pictures of the event will be available in a Google folder that will be posted on the ACA's Instagram page.
Leave a Comment