The 2nd Annual Wilson Peace Symposium: Making Loyola a Hub for Social Justice for Baltimore Youth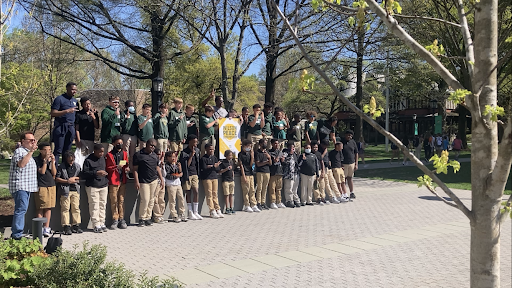 On Thursday, April 13, 100 students from various nearby Baltimore high schools and middle schools walked through Loyola's packed quad to attend the Karson Institute's Second Annual Wilson Peace Symposium. The symposium's goal was to facilitate open discussion surrounding race, justice and inequality among young Baltimore students. This year's event was given the theme of "The Fierce Urgency of Now," a phrase used by Dr. Martin Luther King Jr. to describe the intrinsically urgent nature of social justice work and all fights against inequality.  
The Founding of the Peace Symposium
Dr. Karsonya "Kaye" Wise Whitehead, professor of communication and African American studies, is the founding executive director of the Karson Institute.
"We launched this last year with the same high school and we brought students on campus on a Saturday morning to meet with professors from Loyola, Goucher, Morgan, and more," Whitehead said. "We really pulled the whole community together to talk about; What does it mean to find ways for race, peace, and social justice to interact?"
Dr. Whitehead said they named the event after a board of trustees member, Curt Wilson, who deeply believed in its mission and potential impact on Baltimore youth and the community surrounding Loyola's campus. 
"Curt Wilson unfortunately passed away last summer and it was really devastating for us because he had such a positive impact on the institute…His dream was to have a space where students from the community could all come together to Loyola's campus and imagine themselves being a college student, and maybe even here one day," Whitehead said.
The first symposium included discussions on critical race theory, inequities in America's education system, protesting, and the integration of social justice within teaching.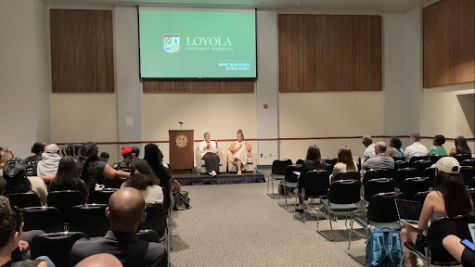 The Fierce Urgency of Now
This year's symposium theme, "The Fierce Urgency of Now," is a phrase popularized by Dr. Martin Luther King Jr. that emphasizes the topics relating to social justice and inequality.
In a speech on April 4, 1967, King said, "We are now faced with the fact that tomorrow is today. We are confronted with the fierce urgency of now. In this unfolding conundrum of life and history, there 'is' such a thing as being too late. This is no time for apathy or complacency."
Whitehead said that these words connect with much of what Baltimore City and its people are experiencing day to day, and action is needed.
"We've had 15 handguns stopped at middle schools and high schools in Baltimore City this year alone. …That's the fierce urgency of now," she said.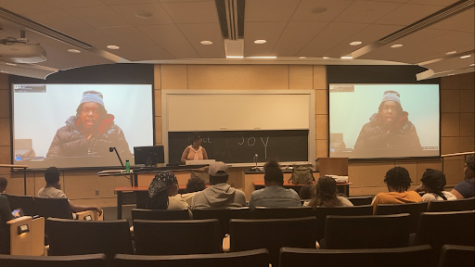 The Backpack Journalism Program
One of the main focal points of this year's peace symposium, the new Backpack Journalism program, encouraged students to share their own stories of daily life as young students in Baltimore in their own unique way. The Karson Institute recently partnered with City Neighbors High School to lead a nine-month backpack journalism program named "The Ida B. Wells Civic and Journalism Mini-Institute (IBWCJ)".
Students were given five to seven assignments that involved documenting the responses of themselves, family members and others from their community on important questions such as "Why is Black History American history?" and "What do you think can be done to save Baltimore?" She says her job is not to help students find their voice, because they already have it. Instead, her job is to help them amplify their voices. 
"By learning how to be a backpack journalist, you're taking control of your own narrative. You're going to shape a different story about Baltimore City," Whitehead said. "You've actually placed yourself from being a kind of an observer to being a participant in driving the news within their own community."
Whitehead highlighted the way the Peace Symposium uses peace to think about all sorts of problems and facilitate open discussion on them and their impact. Many of these issues especially affect young people in Baltimore.
"We can't think about yesterday. They only have this moment right now and whatever change we need to make we need to do it at this moment so we can impact what their life is going to look like," she said. 
You can look forward to next year's Peace Symposium and the many upcoming events and projects that the Karson Institute is working on. On Wednesday, May 3, the Karson Institute is partnering with many other civil rights organizations for National Day of Action and will be hosting teach-ins across campus.
Leave a Comment