Yale Professor Breaks Down Years of Violent Conflict Between Russia and Ukraine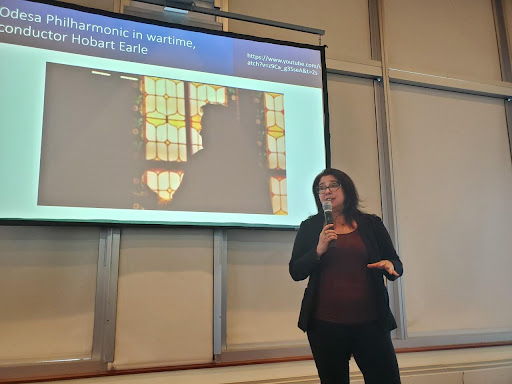 Dr. Marci Shore's speech, "The War in Ukraine and the Problem of Evil," was the last installment of this year's Bunting Peace and Justice Speaker Series at Loyola. Shore, a published author and associate professor of intellectual history at Yale University, covered the current war between Russia and Ukraine along with the long history that precedes it. The Yale professor spent several years living and studying in Eastern Europe, allowing her to weave her own personal perspective into the speech.
Shore shared her initial reaction to the news of Russia's invasion of Ukraine. 
"It was one of three moments in my life where I was completely paralyzed with horror and terror. Something was happening on a world historic scale that I was unable to take in in real-time," Shore said. Shore's shock at the invasion was shared by people all over the world, but the speaker mentioned that shock like this dissolves over time. 
"There are many moments in history where something seems absolutely impossible until it happens and then retrospectively seems inevitable," Shore said.
Russia's invasion of Ukraine came on Feb. 24, 2022, and was a major escalation in the military conflict that began in 2014. Shore describes Russia's actions and role in the war as systemic nihilism, as their violence towards Ukraine has shown little regard for the innocent lives of Ukrainian civilians.
 "The war has been so grotesquely brutal. From the very beginning they have been bombing residential buildings, maternity hospitals, kindergartens… from the very beginning it has been a situation of moral blackmail," Shore said.
A lot of the speech detailed the violence and aggression of Russia towards Ukraine including torture methods used by Russian forces. Shore ends her speech with a quote from Stanislav Aseyev, a Ukrainian journalist who spent a little over two years in a Russian prison where he was subjected to numerous forms of psychological and physical abuse. In Aseyev's book, "The Torture Camp on Paradise Street," Aseyev points out how the people responsible for such evil actions were, and are, seemingly normal people.
"We're talking about people who we share the same streets with… people today who still walk the same streets without their balaclavas on, giving no indication that they tortured someone the day before. Are these people human? Without a doubt. The obviousness of this answer is terrifying," Aseyev wrote.
Events part of the Bunting Peace and Justice Speaker Series are meant to inform and raise awareness of current justice issues. Organized by Loyola's Office of Peace and Justice, speakers such as Shore are invited throughout the year to cover a variety of relevant topics. The President of the Office of Peace and Justice, Dr. Heidi Shaker, shared what their goal is.
"Our goal is to explore the causes and consequences of violent conflict, as well as the conditions that promote conflict resolution, peace, and justice," Shaker said.
Throughout the year the office aims to promote awareness of a variety of issues by hosting events led by experts on the respective topics. The office has a steering committee that brainstorms potential speeches by analyzing timely events and discussing with professors at Loyola who teach peace and justice courses. 
"All four of our talks were very different this year. The hope is that we start to think about complex problems and understanding the context and nuances, and for students to start to be able to analyze and form an educated opinion of where they stand," Shaker said.
While topics such as the war between Russia and Ukraine are heavily covered by the media today, Shaker feels it's important to hear from experts such as Shore who have studied the conflict for years. 
"I think it's different to hear it from someone who studied it for years and years and can unpack things for us versus just reading the media and arriving to conclusions. Because this was such a timely topic, we wanted to hear from Dr. Shore and what she thought," Shaker said. 
The Bunting speeches are an easy and accessible way for students at Loyola to educate themselves on modern topics of peace and justice from experts. Aiden Berkenkemper '26 has always taken advantage of such an opportunity as he attended his first speech back in middle school. 
"I love these speeches; I think this is the third one I've been to. My mom used to work here so I would come when she was an employee," Berkenkemper said. "I came and saw Arun Gandhi who is Gandhi's grandson back in middle school and it still resonates in my head to this day."
Leave a Comment