Chordbusters is Back: Loyola University Maryland A Cappella Groups to Perform Again in their Annual Spring Concert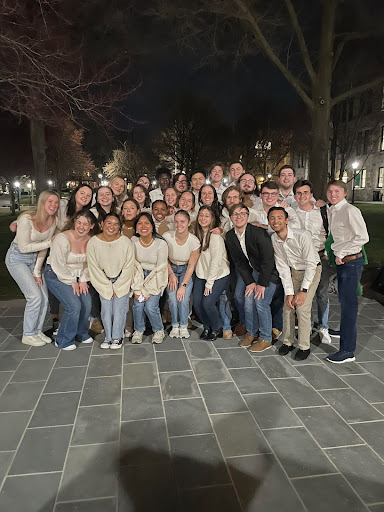 Loyola University Maryland will host their a cappella groups, the Chimes and the Belles, once again at McManus theater, for their annual spring concert. They will be entertaining audiences with lively tunes for two nights only, on the evenings of April 28 and 29. Chimes member RJ DeVico'25 comments on what can be expected this spring. 
"I can't speak for the Belles, but the Chimes will be performing a secret, special mash-up of sorts. I can't say much but it will make the crowd go wild," DeVico said. 
Chordbusters at Loyola University Maryland is an upbeat and amusing seasonal a cappella concert, showcasing both the all-male and all-female a cappella groups on campus. They will deliver a unique and melodic performance you won't forget. 
Both the Chimes and the Belles will demonstrate what they have been working on this semester. They often perform a compilation of songs ranging from popular to classic favorites. Last semester, the Chimes covered "Talk Dirty" by Jason Derulo and the Belles sang "The Chain" by Fleetwood Mac. The performance consists of a skit provided by the Chimes and dancing as well. 
"I'm most looking forward to showing everyone the songs we've arranged ourselves and worked really hard on. This event is truly unique," DeVico said. 
Alumni from the Belles and Chimes typically make a special appearance as well, cheering on the current members of the organizations. Both a cappella groups will be coming up on their 42nd anniversary of singing here at Loyola. 
Tickets sell out fast and can be bought at the box office located in the college center of Loyola University MD. They can also be found on Ticketmaster closer to the date of the show. 
For updates on the show, the Chimes and the Belles can be found on Instagram, at @loyolachimes and @loyolabelles 
Visit Ticketmaster for more information on tickets to upcoming events at Loyola. 
Leave a Comment