The Graduate Resident Coordinator Position will No Longer be Offered to Graduate Students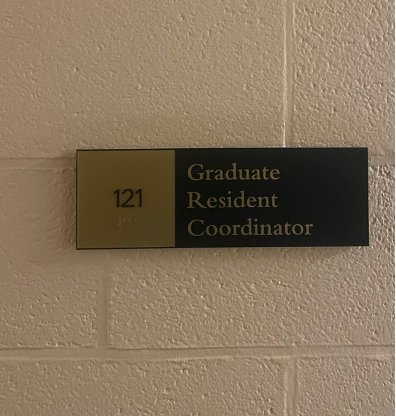 Did you know that the one job that lets grad students live on campus is not going to be an option after next year? For those who do not know, GRC stands for Graduate Residence Coordinator. They are in charge of the Resident Assistants  (RA) and are involved in acting as a resource to student residents, helping uphold community standards, participating in community engagement, responding to emergencies around campus, and scheduling regular meetings with the Resident Assistants. The rest of the requirements are detailed on Student Life's website. 
As of recently, Student Life has decided that the position will be switching from graduate student employees to professional staff. This could be bad news for some grad students, as it is the only position that would allow them to have their room and board covered, as Loyola does not offer graduate housing. To get more information about this switch, RA Alondra Vargas '23 and Stepf Richie Diaz, one of the associate directors in the Office of Student Life, helped clarify what this change means and why it is being made.
When speaking to Vargas, she explained that there is a lot more expected of the GRCs than people think.
"Aside from your day-to-day responsibilities, when you are on duty you can be responding to all of campus. This means that if an emergency or situation needs to be taken care of, it is their responsibility to be there to help, even though there may be other RAs there," Vargas said.
Vargas added that although the GRC is a 20 hours/week job on paper, it can turn into much more.
"When you are on duty it is a 24-hour job. If there is an emergency at three o'clock in the morning, you will receive a call on your work phone and you have to get out of bed and be there to make sure everything is handled correctly."
This helped explain that the GRC position is much more than what people might expect when first applying. Diaz explained that switching to professional staff is the right move, and explained the process of shortening the staff and then fully transitioning to professional staff.
"Currently we have 17 GRCs, and we will have 12 GRCs next year. This shift [to professional staff] allows us to provide increased support for students in their residence halls on a more consistent schedule. Our GRCs have done a great job supporting our students over the years, but this role is not their only job."
They also explained the plan for the future in terms of the new professional staff that they will be interviewing to fill this position.
"Having professional staff would mean that students would be able to work directly with their area staff to address concerns before they might escalate to crisis situations. The RAs will be supervised by an Area Coordinator and would have the support of staff who live on campus during any on-call incidents."
Now this is bad news for graduate students, but could potentially be good news for undergraduate students. While graduate students will not have a chance to live on campus anymore, that was never the main focus of the position. The position is supposed to benefit undergraduates. The GRCs are there to act as a help and as resources to current students. Now that it is being turned into a job with professional staff, they can try and cater more to those students without constraints such as school as it will be their sole priority.
Leave a Comment