Preview: Loyola's Spectrum Club Presents the 2023 Rainbow Ball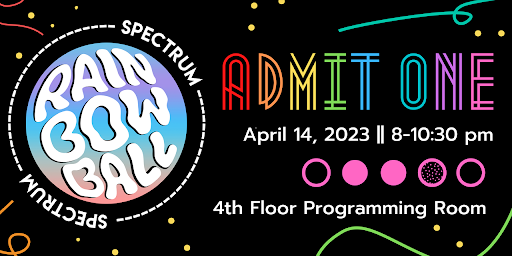 On April 14 from 8 to 10:30 p.m., The Rainbow Ball will return to Loyola, courtesy of our very own Spectrum Club. In the 4th Floor Programming Room, the club will host a night of dancing, games, prizes, and more! Spectrum is a club that celebrates different identities and offers a safe space for discussion and growth. I was able to talk to Club President and head organizer of the event, Ale Tererro '23, at one of Spectrum's recent meetings. 
In regards to his hopes for the event turnout, Tererro '23 said, "My biggest hope for this year's Rainbow Ball [is] to sell all 80 tickets. So far, as of March 28, we've sold 43 tickets. We're almost there." Tererro is looking forward to this year's event. 
He said, "It's very exciting, I'm super psyched. I think we worked out some of the kinks from last year, so I think it'll be a lot more smooth. The playlist already looks great." There will be many returning events from last year's Rainbow Ball such as the lip sync battle, runway, photo booth, and trivia. The winners of the competitive events will be rewarded with tiaras.  
There will also be catered food provided to all those who purchase a ticket. The dress code is semi-formal but guests are welcomed and encouraged to go all out. In the past, there have been guests who have arrived in ball gowns, button-downs, and everything in between. Tererro is hopeful that this year will have a great crowd. 
 "We've had great base attendance for just our regular meetings, so I'm excited to see everyone in a space where they can dress up, dance, and have a good night of relaxation and fun," Tererro said. Eddie Langemak '23, a member of Spectrum, adds that all are welcome to the event. 
"This year is going to be a good time. It's also not only for Spectrum club members, it's open to anybody so the more people that attend, the more representation." said Langemak. 
The Rainbow Ball will take place on April 14 from 8 to 10:30 p.m. in the 4th Floor Programming Room. Tickets are still being sold and can be purchased on The Bridge so make sure to grab yours while you can!
Leave a Comment