One Community, One Fight: Relay For Life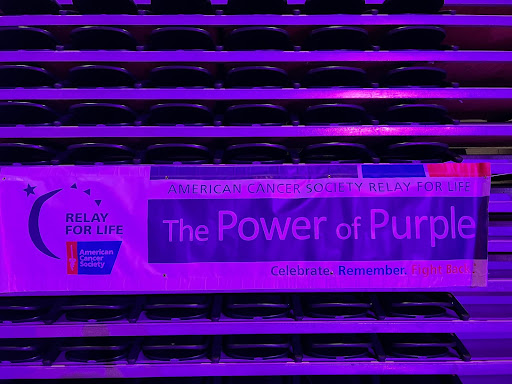 April 1 was Loyola's annual 12-hour community-based fundraising event, Relay For Life, raising $68,667.71 and awareness for cancer research for the American Cancer Society. Reitz Arena was decorated with encouraging posters, purple lights, and paper bags lining the track with names to remember those who lost their fight to cancer. 
From 2 p.m. to 2 a.m., teams and participants walked the track in support of the same fight, with the Dance Crew, Irish Dance Team, Greysounds, Chimes, and many other clubs and activities keeping participants engaged and spirits high. Jack O'Hara '25 shared why he chose to walk the track.
"For me, I've had a lot of people be diagnosed with cancer and die of cancer in my own family. The Evergreens are an important group here at Loyola and are very active participants on campus, and so to put them together I know that we could make a big contribution to Relay," O'Hara said.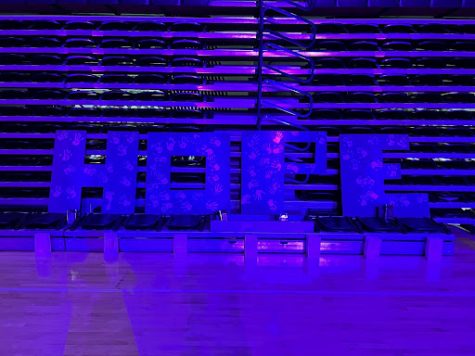 While Relay For Life is an event to memorialize those we have lost, it's also a celebration of survivorship. Following the opening ceremony was a lap dedicated to those who won their battle against cancer, director of the Women's Center and cancer survivor Melissa Lees spoke on her history with Relay For Life and its importance. 
"I started relaying for my grandmothers and my aunts when I was in college, and today I am relaying because I myself am a survivor, and I believe it's really important to get out and support other survivors," Lees said.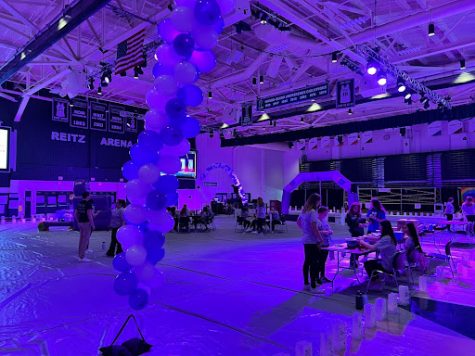 Relay For Life is one of the largest peer-to-peer fundraising events in the world, and the fight against cancer never stops. The Relay for Life club at Loyola and the American Cancer Society (ACS) work hand in hand to make these events possible year round. ACS employee Allison Epp explained how much work goes into Relay.
"A lot of work, it takes about a year so probably starting tomorrow or next week we will be working on the 2024 event already, and it takes a lot of effort to go into it," Epp said. 
With the nature of an event like this being very somber, the Loyola and ACS community strived to spread positivity and optimism throughout the course of the event. Student Malcom Kiza '25 spoke on what being at this event meant to him.
Kiza said, "Y'know we have a lot of people who have lost their lives, families have lost a lot of loved ones, and I think it's great to have people come here, celebrate, and we've had a couple of good performances already to keep people entertained." 
Relay For Life is an annual Spring event held to raise money for research and programs for the American Cancer Society, including transportation for patients undergoing cancer treatment, funding for Hope Lodge, and access to support hotlines for patients and their families. More Information about the event can be found on their Instagram or their Facebook @Relay For Life of Loyola University Maryland. 
Leave a Comment