Loyola Dance Company Delivers Stunning Spring Showcase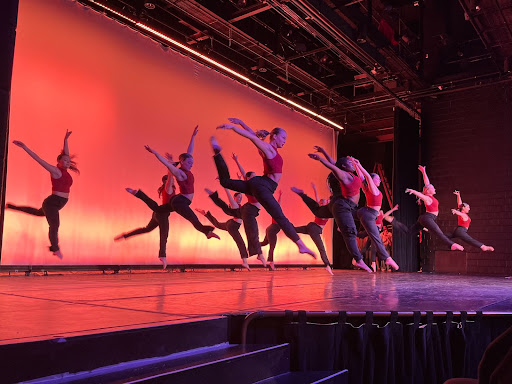 Loyola University Dance Company (LUDC) performed its annual spring showcase on March 25 and 26 in McManus Theater, impressively incorporating many styles of dance and all levels of experience. Caroline Reichmann '23, Katie Fitzgerald '23, and Rebecca Grunski '23 reflected on their time in the dance company and the success of their final performance as Greyhounds. 
"Everyone performed great and everyone who came really enjoyed the dances. Some of my friends said it was one of their favorite shows that they've been to," said Fitzgerald. 
LUDC is the largest student-run organization on campus and showcases the hard work of the dancers, teachers, and officers throughout the semester at their fall and spring showcases. Tickets to these showcases are extremely sought after, with the spring showcase selling out the same day it went on sale at the box office this year. 
As always, the audiences at LUDC's showcases were rowdy–at least that's how these seniors described it. There was rarely a moment throughout the show where nobody in the crowd was whooping or calling out their friend's name. The dancers endorse a high level of noise and rowdiness from the audience, and that may come as a surprise to first-time showcase-goers. They feed off of the energy and excitement of the crowd since the auditorium is so small and the dancers agree that it is a necessary contribution to the show. 
Reichmann, Fitzgerald, and Grunski all said that the large presence LUDC has on campus is one of their favorite parts of the organization. With Loyola being such a small school and LUDC having so many members, it is likely that anyone you meet on campus will have a connection to it. 
"I enjoy the impact that the dance company has on the community. Being able to say that I am a leader of something that is so impactful and that so many people enjoy is so meaningful," Fitzgerald said.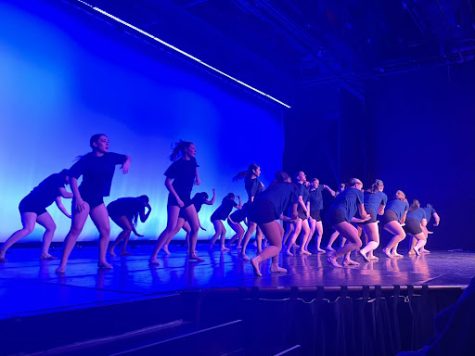 Officers Fitzgerald, Reichmann, and Nicole Scott '24, deal with the logistics involved with planning a show of this nature and support the teachers and dancers to make sure that all members' concerns and needs are being met. According to Grunski, the strong leadership of these officers and their support encourages people to join, which is what has made the club grow so significantly in recent years. 
This semester, LUDC unexpectedly had to put on the showcase a month early due to the large number of events taking place in McManus during the spring. Despite this obstacle, the dancers agreed that they owe their success to all the teachers who are so dedicated to the dance company. They concluded that even though they had less time to prepare, they adapted to this through high levels of structure, focus, and determination. 
"As a teacher, I knew it was going to be earlier and we told everyone that, so a lot of the teachers started earlier over winter break. Going into the semester with the mindset that this needed to be done ASAP helped deal with that short amount of time," Reichmann said.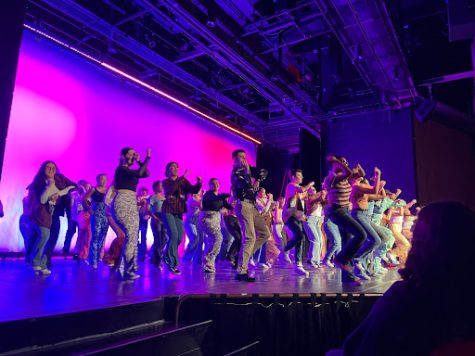 Looking back on their time in LUDC and their last showcase, the seniors appreciate the journey they've been on and are grateful to have ended it on such a positive note. They recall their freshman year when the spring showcase was supposed to take place a week after the world shut down and all Loyola students were sent home. They feel grateful for the ability to have a final show at all, unlike the 2020 seniors whose time was abruptly cut short. 
The camaraderie and friendship that come with being a part of LUDC was one of the highlights of these seniors' four years. They appreciate the devoted nature of the group and the way they have fostered an accepting and supportive environment. 
"Some of my closest friends that I vividly remember going to tryouts with freshman year–we still continue to be friends and we stuck with it. Seeing the core group of people that stuck with it throughout COVID and all of that, I've really enjoyed it," said Grunski.
Reichmann, Fitzgerald, and Grunski feel grateful to have ended their long dancing careers on such a high note with two fantastic shows this past weekend. They have enjoyed seeing people of all different backgrounds of dance come together to perform for the last four years and feel bittersweet about leaving this experience behind along with the 40 other LUDC seniors. 
Stay updated on LUDC and their future tryouts and performances by following them on Instagram. 
Leave a Comment