The Julio Fine Arts Gallery Presents: "Heartlines"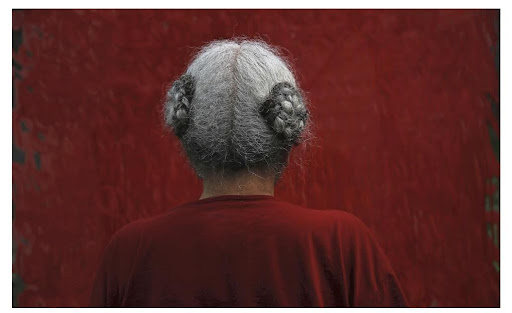 The Julio Fine Arts Gallery exhibit "Heartlines" is named after and has many similarities to this year's Messina common text "The Vanishing Half" by Brit Bennet. "Heartlines" is not only the title of the exhibition but also the name of the third section of the book. The main point of this section of the book is understanding the future through palm reading. The artwork is supposed to have us look at the future while also not forgetting where we originate from in the past.
The exhibit featured three artists who all have themes of focusing on connecting their family history with their artwork. Akea Brionne is an interdisciplinary researcher and artist. Her work explores the relationships involving social geography and tells stories through black identity in America. Savannah Wood is an artist and cultural organizer whose work explores spirituality. She combines new and old works with found objects and brand-new ideas. Phylicia Ghee is an interdisciplinary visual artist, photographer, and curator. The focus of her artwork is the idea of transitions and the concept of exploration. 
Brionne takes her time in understanding memories and attempts to reconstruct them in an effort to form a deeper understanding of her family. To this day, many of her family remains scattered post-Hurricane Katrina. 
Woods' artwork has connections to ancestral research and reimagining humans as part of, rather than separate from, the natural world. She wants to reconnect people with the everyday beauty of our world and the histories that lie hidden just below its surface.
Ghee has worked as a professional photographer for over 15 years. She is the first Black woman and only one of 21 photographers in American history to work as an official photographer for the U.S. Capitol, House of Representatives. Ghee talks about how she expresses her artwork in a very unique way.
"Each medium I use is its own language," Ghee said. "Working in photography, performance, installation, video, fibers, mixed media, and painting allows me to create narrative works that evolve over time. My work can span many years."
Ghee's family not only has an impact on her photos and artwork but she speaks on how they are also present in it.  
"My grandfather, also an interdisciplinary artist, has had a deep impact on my art practice —his fingerprint is in this work. My mother's writing, my grandmother's sewing, my great grandmother's skill in quilting and my great great grandmother's practice of herbalism have all found manifestation in my work."
The exhibit will be in the Julio Fine Arts Gallery until April 11. Visit the Julio Fine Arts Gallery website for more information on future exhibits.
Leave a Comment