Spotify's AI DJ: Redefining the Listening Experience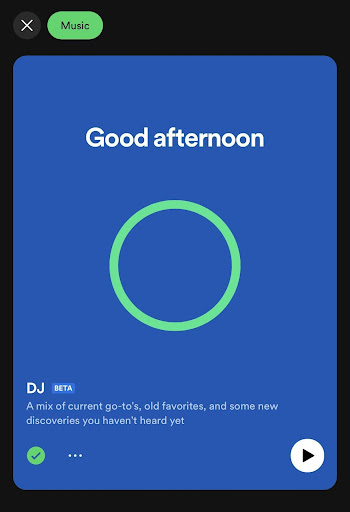 Popular music streaming service Spotify is beta testing an AI DJ in an attempt to create a more unique listening experience for its users. Introduced to premium users in February, the personalized DJ "Xavier" curates a lineup of music based on the users' listening habits and history, along with natural-sounding commentary and track mixing. 
The DJ's lineup is five songs of a similar genre. Selections are chosen from existing user data, editor's choices, or something new for the user to listen to. While users may have existing playlists that they listen to on a regular basis, the DJ aims to help users discover new music and genres, coupled with commentary on the selection. 
In the past, Spotify has implemented unique features such as "Discover Weekly" or their annual "Wrapped" campaign to transform the ways listeners discover new music. However, the AI technology is Spotify's personalization prowess culminating in a dynamic listening experience. 
Spotify's Vice President of Personalization Ziad Sultan said that "personalization is the heart of what we do." With the Spotify DJ still in beta testing, not many Spotify users are aware of the features and utilities the innovation has to offer. Whether a user listens to music every day or casually, the DJ has something to offer everyone in the grand scope of listening. Loyola student Lauren Dordevic '25, a Spotify user since her freshman year of high school, was unaware of the new feature and believes it could benefit her listening experience.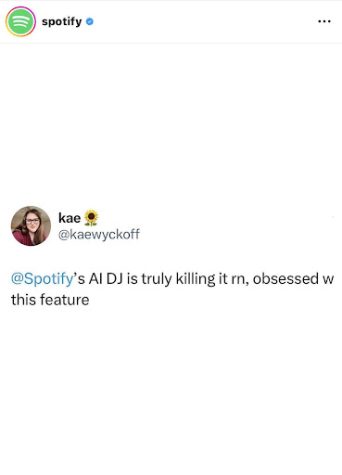 "I feel like especially when I'm in the mood to listen to more of like a random playlist of music, the Spotify DJ could definitely be helpful in that regard. Just to find new music, discover some new tunes, and just have some fun if I'm feeling it," said Dordevic. 
Aside from being able to curate a personalized track list, Spotify's new innovation possesses a dynamic voice that brings text to life through Sonantic acquisition. Through the voice model, Xavier "X" Jernigan, the text-to-speech is shockingly realistic in sound, as if there really was a DJ behind the screen. 
While the AI DJ is still a relatively new feature, more users appear to be using the DJ as their main tracklist. Reportedly, users now spend 25% of their listening time with the DJ. Ethan York '25 claims that the innovation has become pivotal to his listening habits.
"It's really cool because you never really know what to expect next. It could be something for instance that you were listening to in 2017, or something you listen to on repeat now. It's really diverse with what it will play and I really like that a lot," said York.With Spotify being a champion of musical personalization, the Spotify AI DJ is a promising feature that could ultimately redefine the experience of listening to and discovering new music. More information about the DJ and future innovations can be found on their website.
Leave a Comment