A Loyola Club Helps Baltimore Students Improve Their Literacy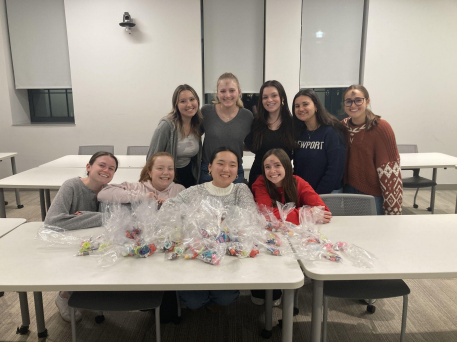 Loyola's Prevention and Intervention for Early Learners (PIEL) club collaborates with Baltimore schools to help students develop their speech, reading, and writing skills. Its main goal is to empower students with the skills they need to succeed academically by enhancing their literacy skills and building their confidence. Lauren Forger '23, an executive member, said the club organizes volunteers from campus to assist Baltimore elementary school students.
"We assist in emphasizing things they might be working on in speech therapy. We use different screenings if students struggle with articulation and expressive language, which helps us determine if they need further intervention," Forger said.  
Student volunteers work directly with speech pathologists from their assigned schools to conduct activities and assessments with the children with whom they are partnered. Depending on their schedules, the volunteers are sent in groups to help preschoolers and elementary students. Nikki Sheehan '23, another member of the PIEL club, said that students are sent four days a week according to their availability. 
Sheehan said, "The students are separated into groups of four and are sent out weekly, following the academic calendar." 
The club works closely with Barclay, Medfield Heights, and Glenmount Elementary Schools. Forgers says volunteers can easily balance their tutoring and academics, given that each school is close to Loyola's campus. She maintains that the club takes an integrated approach to learning, focusing primarily on literacy and covering other topics. 
"When I was working in Medfield last year, I did have a couple of students who did not need speech-related assistance. However, some of them struggled more with number recognition and counting, so it also depends on the areas that the students you are working with are struggling in," Sheehan said.
Volunteers also help students with social skills by collaborating with school psychologists. On Fridays, some volunteers are sent to help with lunch bunch groups that gather students to enhance their social skills. Forger said it is a good way for students to relax and enjoy themselves while learning new skills. 
"Students get to eat lunch with a lunch bunch group, which consists of a group of students being pulled from classes with a school psychologist. They sit in small groups and get to play games, and that kind of focuses on the social aspects of speech and the pragmatics." 
The club provides undergraduate students majoring in speech pathology with on-field experience, allowing them to learn new skills and build connections. Forger said that the pros outweigh the cons when working with children, as she learns more about the field and builds relationships with them. 
"It is a lot of work, but it's definitely worth it getting to know the students and hearing their stories. Being able to gain this extra experience before graduate school is very cool, as you are doing the job that you want to be in, but at lower stakes," Forger said.
As PIEL works to build a strong partnership with Baltimore City students and faculty, they held a Goodie Bag Making event where students made goodie bags to provide to the schools and students they are working with this year. The bags included fidget spinners, sharpeners, and different types of candies such as Hershey Kisses, Tootsie Rolls and Starburst. Sheehan said that their main goal in hosting this event was to give back to students and speech pathologists.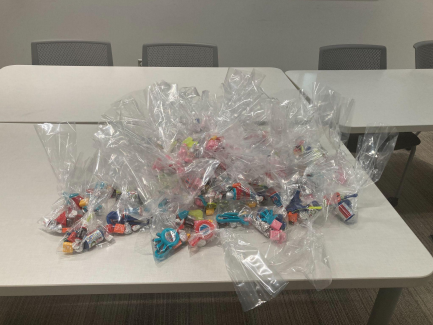 "Most of the speech pathologists that I work with provide snacks to the children at each session. We wanted to help and give back, as the cost of the snack of each session comes out of their own pocket, we wanted to do something nice for them," Sheehan said. 
Forger said that the goodie bags were also a way to thank the speech pathologists for allowing PIEL members to be part of their speech interventions by providing the students with gifts and snacks. 
Forger said, "We care about the students, and after each session, the children receive treats that make them very happy. This was a way to acknowledge the students and speech pathologists and give them something to look forward to."
Some PIEL members cannot often attend the weekly sessions due to their schedules. Sheehan said that the event was also a great way for those students to still participate and help the children. 
"A lot of our club members cannot go to the schools on a weekly basis. We also wanted to provide an opportunity for those students who still want to be members of PIEL to be active while also not having that weekly commitment," Sheehan said. 
The club is open to every major, and students wanting to join should register on the Bridge. The club has weekly volunteering meetings every Thursday beginning at 7:30 a.m. at Glenmount Elementary/Middle School. To learn more about the PIEL Club and its activities, follow their Instagram page.
Leave a Comment