WLOY Celebrates its 20th Birthday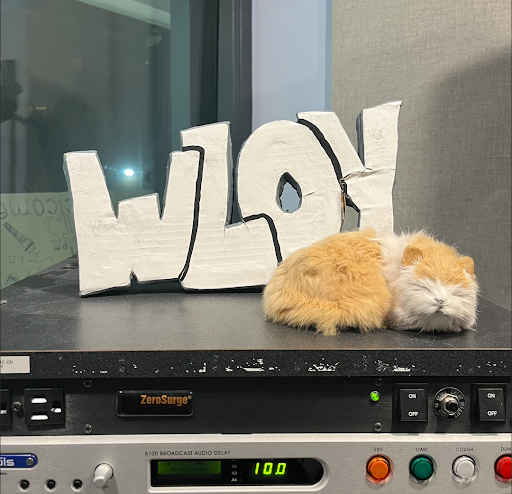 WLOY has been a force within Loyola's community for the last 20 years. Coming to fruition in 2003, the vast history of WLOY spans two decades of entertainment, bands, and other events that are sponsored by the radio station and its resources. John Devecka, the station's current operations manager, shares what it means to be in charge of the radio station.
Devecka began his career with Loyola University of Maryland in 2003 as a contractor, building the station from the ground up. After the construction was complete, Loyola's administration began to look for an individual to be in charge of the station, however, It was shortly determined there was no better man for the job than Devecka himself. 
"I guess because we had a lot of work together. I've been involved with getting everything sorted out, planned, designed, and built for a year and a half. So, I kind of already knew all the administrators involved," said Devecka. 
As the 20th anniversary quickly approaches, Devecka reflects on the radio station's most notable moments, reminiscing on previous musical events, guests, and more that helped establish their philanthropy – aside from the musical competent that exposes Loyola to varying bands and radio shows, their efforts are extended elsewhere.
"We've had great concerts on campus. We got invited to take over the stage at HonFest and began programming that about ten years ago and that was great. Being able to pick 15 local bands and put them on for two days was a lot of fun. Stuff like that, that really gets us out there…helping to start a homeless street newspaper was really cool," said Devecka. 
Although the resources of the radio station were extended to the student body and their interest in radio entertainment, it was not long until the surrounding community heard of WLOY and began to take interest in what it had to offer. Beginning with radio shows and the training of DJs, Devecka would soon recruit students for parades and charity events.
Devecka said, "Being invited to be in the Mayor's Christmas Parade was a really cool honor. When we were invited, we were the only school, only college, and the only non-commercial radio station. Building a float on the roof of the van and having everybody dressed up and handing out candy canes and stuff was a ton of fun."
The radio station's involvement does not stop at appearances within Baltimore's community but plays a role in the nourishment of those in need, which is most notably seen in their participation in the People's Barbecue, an event hosted before Covid-19, 
"We would set up with some other organizations, a free barbecue down at the old Saint Vincent de Paul Church. I mean, the first year we fed 400 people," said Devecka. 
Devecka further explained how once news regarding the barbeque had circulated, more people began to attend in order to experience the generosity of WLOY firsthand.
"By the time we peaked, it was about 1,100 to 1,200 people," he said. "Hot dogs, hamburgers, chicken, salads, tons of volunteers coming. We had people donating huge baskets of fruit and stuff. We had groups coming doing free haircuts. We would play music." 
In pursuit of altruism, the station moved past just musical entertainment and began to invest time in humanitarianism – these events not only provided a sense of direction for those they were serving, but the students involved were impacted as well. Given a purpose that surpasses the superficial, Devecka hopes these students were exposed to an inspiring sense of gratitude and fulfillment.
"Our students would run the grills or help with the grills, help with food. It was a really cool project," he said. "One of the things for me that really stuck out is I got a ride home from one of the students at the end of that and we parked in my driveway and there was this long pause and he said, 'That was the coolest thing I've ever done in my life'".
WLOY has a growing presence on social media, making it easier for the student body, and those looking to join us on campus, to follow their latest campaigns and stay up to date with the different events they hold as a radio station. To learn more about their efforts, follow them on Instagram @wloy_radio!
Leave a Comment