Loyola's bi-annual spring musical Cabaret is this Thursday to Saturday at 8 p.m. Directed by Natka Bianchini, this show, with takes place  in Berlin, provides the ideal combination of humor and seriousness— part of the reason why Bianchini chose it. "I liked the idea of a show with an honest message that also incorporates a large comedic aspect," she explained.
Cabaret, originally based off a book and featured on Broadway, brings the audience to the time of Germany's Weimar Republic in 1918: its first experiment with democracy, which, at the time, symbolized hope that a new Germany would soon rise. Although Berlin was not yet the capital of Germany, it was still a place where over four million people from different nationalities came together. The cabarets in 1933 were respected establishments, although some were centers of sexual libertinism and drug use. The show begins with Mr. Bradshaw, an American from Harrisburg, PA., embarking on a journey to Berlin to work on his novel. He encounters the cabaret life and women, but the rest you'll have to see for yourself.
The cast members feel that the cast and crew will be extremely prepared to perform by next week due to the rehearsal schedule which began before Christmas break. In addition to the cast of Loyola stud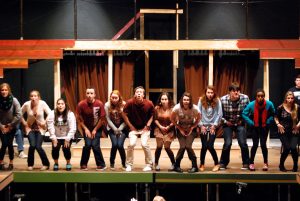 ents, there is a live orchestra with eight professional musicians and three Loyola students.
Although the audience might say that the finished product is the best part about musicals, the cast and director have a different viewpoint. One of the crew members said that the most exciting part for her is seeing it all come together after months of practice and hard work. Bianchini exclaimed, "The most exciting part for me is getting to work with such a talented cast." The talent from both the cast and the director is very apparent, especially with all of the changes made to Loyola's version of Cabaret. "We made a bazillion changes," Bianchini laughed, such as the re-writing of certain songs, including one at the end of Act I.
Student tickets are $10 in the Boulder box office.