The Newest Craze: True Crime Podcasts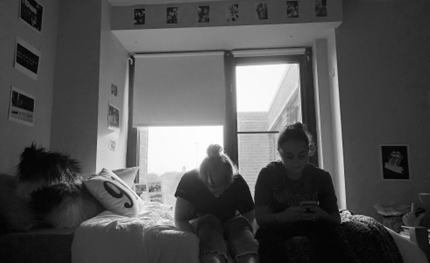 Podcasting has reached a whole new level of popularity with the help of true crime podcasts and our innate desire to learn about the scary, true side of the human condition. True crime podcasters delve deep into the mysterious and find ways to tell terrifying stories in fascinating ways. Psychologist Chivonna Child, Ph.D., at Cleveland Clinic, an academic medical center, says, "Watching true crime doesn't make you strange or weird. It's human nature to be inquisitive. True Crime appeals to us because we get a glimpse into the mind of a real person who has committed a heinous act."
The fascination surrounding true crime stories is not something new. Twenty-one-year-old bio-chem major and Loyola University Spanish minor, Alaina Harris, listens to true crime not only for the entertainment but for the investigative aspect. She grew up watching late-night television programs like "Forensic Files" and "Cold Case." She took a forensic class in high school where each week they had Forensic File Fridays. On those Fridays, Harris says the crimes were "Put more into an intellectual context where I was excited to learn more about the cases and not just about the entertainment value." Harris says that true crime podcasts are the perfect mix of entertainment and information.
Harris' favorite podcast is Morbid: A True Crime Podcast. A few months ago her roommate introduced her to it, and she has been hooked ever since. Morbid is run by two women, Ash and Alaina, who are aunt and niece but are close to the point where they call each other sisters. "Alaina is an autopsy specialist and it's cool for me at least, because I am interested in medicine, just to see that scientific aspect of it and her professional opinion."
Harris says they layout cases thoroughly, give the full picture and even the background for the motives and all that leads to it. "I really like the way they present the cases. I think they do a really good job giving equal weight to the facts of the case and their opinions. The input they allow the audience to give, whether it's in a two-part episode and they want to hear your theories, or they'll have episodes that are listener tales, which is another interesting aspect of true crime- not only because it is true, but it happened to one of you, the listeners."
Forty-six-year-old Greenwich, CT local, Amanda Erb, is also a huge fan of true crime podcasts. Erb, a part-time real estate investor says her passion for true crime began at a much younger age. She says, "I've always been an avid reader of detective/murder mystery novels, quickly racing to get to the end of a book to figure out the 'why' or the 'whodunit.'" Then when podcasts became a part of our culture, she immediately jumped on the bandwagon.
Podcast listeners say they are drawn in by the reality of these stories. Erb likes true crime because "you are listening to and experiencing something true and that actually happened." Unlike reading fiction, this is a way to really get lost and yet be aware of the truth that hides within certain people. Erb says, "It is creepy but also so incredibly fascinating. True crime podcasts not only entertain us with unbelievable facts and events, but they also can keep us on our toes and keep us guessing by adding an element of suspense as the tales are retold."
Fans say true crime stories are so encapsulating because of what they simply are: true. Harris says, "I just think it's really interesting to see how it all comes together versus what we are used to seeing in the news, which is just the sensational headline of it. This, you get the full picture, which is most appealing to me." The actual logistics of true crime, gathering factual information about the case and all the factors that played into the motives behind the crimes are what make a successful podcast. Erb agrees and says, "They really can sweep you away and then ground you just as quickly when you realize what you're listening to is the truth."
With more time at home and less to do amidst the pandemic, true crime fans say podcasts can help fill that space. Fans say to turn on a true crime episode in any location and it won't feel so empty anymore. Harris says, "We are in the streaming era now, and podcasts have made it so it is a much more accessible format for true-crime storytelling." Podcasts have taken that to the next level, where it is still entertainment but a lot more informative and much more accessible than sitting down to watch a programmed television show.
There are hundreds of true crime podcasts to choose from through various platforms. True crime podcasters examine a real crime, dig deep into the details and layout the real story for their listeners to hear. This process varies depending on the podcast you're listening to. Some podcasters choose to independently produce their own, while others gain outside help. The top popular podcasts today are Serial, My Favorite Murder, Casefile, Criminal, Crime Junkie, Last Podcast on The Left, Up and Vanished and many more.
Featured Image courtesy of Delainey Sheehan
Leave a Comment
Your donation will support the student journalists of Loyola University Maryland. Your contribution will allow us to purchase equipment and cover our annual website hosting costs.