On Monday, Dec. 4, the CPaMS (Computer science, Physics, and Mathematics Statistics) Scholars program invited Mindgrub CEO Todd Marks '98 to speak to students about success in the software development, computer science, and business fields and the value of the science technology engineering and mathematics (STEM) degrees. Marks, a graduate of the class of 1998, explained how to succeed in this dominating work field and his personal experience starting his own company.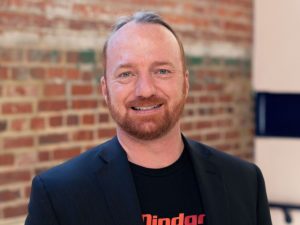 Mindgrub, which started in Marks basement in 2002, is a full-service technological innovation agency with the unique ability to build any app, website, or digital assets that the mind can conceive. The company specializes in digital marketing and develops media including virtual reality programs and app layouts, with major clients including Wendy's and Under Armour.
First, Marks emphasized the importance of work environment. Mindgrub installed a rock-climbing room, a snack-delivering robot, and the adventure club in the office to secure a fun, stress-free work space.
"I wanted Mindgrub to have a very fun environment," Marks said. "To achieve this, I call meetings 'project parties' and lead cycling, paintball, and ski trips. The first interview also requires the interviewees to play "Rock Band," "Day Off," or "Wii Golf" for an hour to make sure they can have fun. We also have yoga and ping-pong tournaments in the office."
Their office is performance-based rather than tenure-based, focusing entirely on performance and experience. The company also built a "Mindgrub Café" for brain food and mental-power boosts.
Next, Marks explained his journey in beginning his own company. He studied math with a minor in computer science and art at Loyola and worked as a rock climbing instructor in Canada after graduation. After the cold weather rolled in, Marks traveled back to the States and worked as a math teacher.
"When I began teaching, the students would ask me questions surrounding the technological fields that I couldn't answer. I went home, did my own research on each question, and told them the next day. Soon, I was able to answer all of their questions. I learned more about this field from my students and my own research," he said.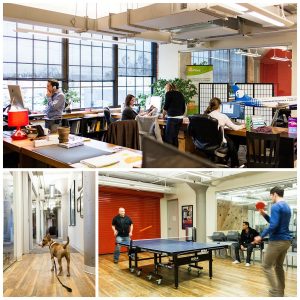 After teaching, Marks pursued the building of his company and followed his dream of working in a computer science field. In his basement with five other employees, the team's first project was designing the departure and arrival screens for the Baltimore/Washington International (BWI) Airport. Next, Marks rented his first office for Mindgrub for $800 monthly.
"I only had a $5,000 payroll when we started, and I barely had enough money to pay my five workers every two weeks. I rode my bike to work because I had to sell my car to afford the new office." he said. "Now, our office is $40,000-$50,000 per month and our payroll is $250,000."
Throughout this journey, Marks revealed that he experienced "imposter syndrome," or a lack of confidence, to start his business. He detailed this bump in his road to success and explained how to overcome it.
"I didn't have enough confidence to take charge in my company. But, once I gained more experience, like teaching, working on Wall Street, and meeting new mentors, I started to understand my place in the field and in Mindgrub. I strongly suggest taking mentors along the way to gain confidence," he said.
Marks also elaborated on the value of a STEM-related degree from Loyola and how to find internships within the field.
"The sense of community at Loyola is phenomenal and will help every student maintain a job in any corporation. The STEM classes here are outstanding also," Marks said. "At Mindgrub, we hire one or two paid interns for each department, and for new employees, [we] started 'Sidekick,' a program where older members of the company guide the starters through their first days."
To close, Marks highlighted STEM's integration into different work fields and outlined the steps to follow to start a company off an idea.
"STEM is everywhere. It's in every job from construction to art," Marks said. "Photography transitioned from dark rooms and film to Photoshop and digital photos. STEM has taken over every industry."
Photos courtesty of mindgrub social media.