How do they do it? How does Disney continue to touch lives so consistently that it becomes central to many families' favorite memories? How do the memories become so special?
"Part of the answer to these questions is where and who we come from," Claire Bilby, Senior Vice President of Sales and Service at Walt Disney Disney World Resort, said. "Walt Disney was not only a great entertainer but a lover of detail and a master of taking things to the next level. When his staff presented an idea to him he would say, 'that's great. How are we going to plus it up?'"
Making great things even greater and even more extraordinary is truly the Disney tradition.
Bilby served as the keynote speaker for the Sellinger School of Business and Management's annual DeFrancis Lecture, held on Oct. 25. There were 310 students in attendance. It was time to get nostalgic about our Disney filled childhoods as the Loyola community welcomed Bilby. She was introduced by Dean of the Sellinger School of Business and Management Dr. Kathleen Getz.
Getz discussed Bilby's accomplishments within her three decades of service at Disney, which started in 1988. During her career, Bilby helped launch five Disney theme parks and two Disney family destinations. In her role, Bilby leads several businesses including Disney Institute, Catering Convention Services, Park Event Operations, Travel Operations, Group Sales and Marketing, Disney Fairy Tale Weddings and Honeymoons, Disney Special Activities, and Disney Floral and Gifts.
Bilby discussed the history of the Disney Parks, their plans for the future, and their emphasis on excellent guest services.
It all started back in 1951 when Art Linkletter, a well-known radio and television personality, formed a friendship with Walt Disney. Walt persuaded Art to go with him to the Tivoli Gardens in Denmark. At this amusement park, Linkletter noticed that Walt was paying attention to every detail of the park such as the seat heights on rides, the wait times on various attractions, and the architectural details.
Walt was inspired to build his own theme park and imagined that he would welcome his viewers into the world of their favorite characters. Disneyland ultimately became a huge success.
"Today, Disney is the world leader in family entertainment and the Disney Destinations are synonymous in magic, memories, togetherness, and fun," Bilby said.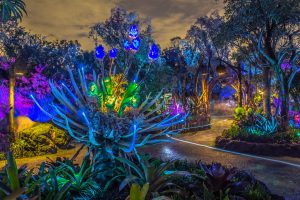 Bilby discussed her excitement about Disney's heritage as she moves toward the future. This past spring, Disney World opened Pandora: The World of Avatar, which is the largest expansion in the history at Disney's Animal Kingdom to date. That same week, they opened Guardians of the Galaxy—Mission: Breakout! at Disney California Adventure.
Next summer, Walt Disney Resort will introduce the opening of Toy Story Land, and in 2019, both parks on the East and West coasts will open a Star Wars-themed park.
Toy Story Land will honor the world of a film that forever changed the nature of animation in 1995.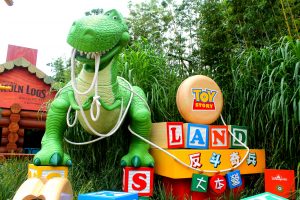 "Eight-year-old kids who fell in love that year with Woody, Jessie, and Buzz are turning 30 this year. They have kids of their own and in two years from now, they will take them to see Toy Story 4," Bilby said. "Disney invites guests into the worlds of their favorite stories."
Bilby said that whenever she talks to guests, they do not rave about the operations, but rather the special way Cast Members make them feel. She explained, "Ensuring one-of-a-kind guest services take innovative technology, timeless works, but most importantly and at our core, it takes people."
She then read a quote by Walt Disney himself. "You can design and create, and build the most wonderful place in the world. But it requires people to make the dream a reality," he said.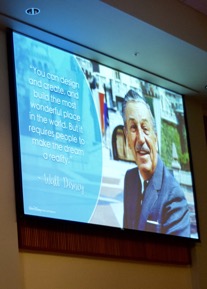 The cast at Disney has four procedures for their guest experience. These guidelines include safety, courtesy, show, and efficiency. With safety, they try to eliminate risks before they become incidents. With courtesy, they seek to go above and beyond their guests' expectations and they are authorized to do whatever it takes to make the experience magical. With a show, the cast must view every job as a role. In order to make the show come together, they must stay in character and play their parts. With efficiency, they look at how they can make the best of their time and use their resources creatively in order to enhance guest experience.
A long legacy of innovation is constantly exceeding guest expectations. Inventions such as the Magic Band and the My Disney Experience app are responsible for creating a more magical and efficient guest experience in the modern era. Walt was a huge fan of technology and wanted to blaze a new trail for the future.
The ability to see the park in the eyes of guests of all ages is what makes Disney so iconic.
"Walt Disney would inspect scenes and facades by squatting down until he was practically sitting on his heels," Bibly said. "Finally a manager asked him, 'What are you doing?' and Walt replied, 'I'm trying to determine what this would look like in the eyes of a 5-year-old child.'"
Bilby stated that whenever we hear stories from other people, whether it be by the kitchen table or by the campfire, we try and come up with something better. For example, if someone says they did one thing that is cool, you will try to come up with something cooler to say. Disney uses that philosophy with Cast Members and encourages each one to climb to new heights. They are constantly looking for new and better ways to walk in the footsteps of Walt Disney.
She explained there are two common philosophies that each member of the Disney Cast shares which help the cast be bigger and better than they were the day before.
First is the Pixie Dust Factor. Most Disney Cast members visited Disney as a child, and they continue to hold on to those magical memories. Since they experienced Disney firsthand growing up, they aim to create the same special feelings for their guests.
Second is Team Spirit. Each member encourages one another to do their best for their guests. Time goes quickly when you spend your entire day making other people happy.
Bilby concluded the lecture by describing what makes Disney so special.
"First we communicate our vision of guest service to the cast. Next, we show that we care for both them and our guests. Then, we make that emotional connection and provide our guests with magical moments," she said. "That moment, in turn, becomes a memory that will last a lifetime. Is it magic? We certainly like to think so."