On Oct. 15, the Art Club went on a trip to the Corradetti Glass Blowing Studio, where they made their own glass pumpkins. The trendy glass blowing studio and gallery is in Baltimore and is an experience like no other.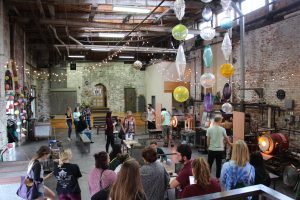 The shop and surrounding area used to be a part of a clipper mill, which was built in the 1860s, and was renovated about 12 years ago. With the urban and atheistically pleasing location and décor of the shop, customers are able to have fun in a great environment, while creating works of art. The gallery section of the shop is filled with beautiful and delicate pieces of glass, which were all handmade in the shop.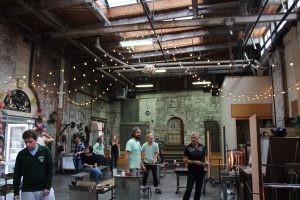 This was my first glass blowing experience, and it was a very cool experience. The hardest part for me was actually the very beginning, when I had to choose which colors I wanted for the stem and base of my pumpkin. I could not decide what colors I wanted!
Once we picked our colors, we had to wait for a staff member to help us create our piece of artwork. The workers there are incredibly friendly and go over the glass blowing instructions and safety precautions. There are furnaces in the shop containing molten clear glass, which the workers are handling and walking about with, so being mindful of your surroundings is key.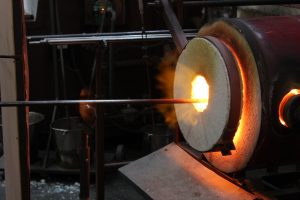 The workers introduced us the art of glass blowing as they explained the importance of turning, consistent air pressure, and how to do it. The glass goes into the furnace as powder, and at 320 degrees the powder melts and turns into clear glass.
For most of the experience, you are sitting there watching. However, it is far from boring. You get to watch the workers take out molten glass and work with it. Whether it was adding the color you wanted, rolling it on the table to give it some shape, cooling off the handle or putting it into molds, the entire process is fascinating.
You may be wondering, why would I spend all this money ($50, but I got a discount so it was $30 for me, but still!) if I am just watching someone do this? Well, I actually had the most important job in shaping my pumpkin: using the blowpipe to create the shape of my pumpkin.
On one end of the pipe is the molten glass, and on the other, there is an opening to blow through the pipe as it is turning back and forth to inflate it. There is only a short window to make the shape, so you have to do it properly. Don't worry, though. The workers are there telling you when you need to start and if you need more or less air.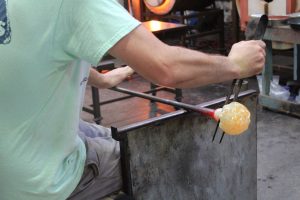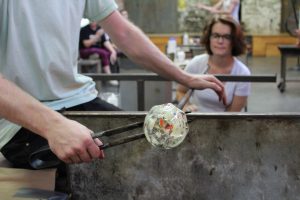 Once you have successfully given your pumpkin its shape, the workers put it in the furnace again, bring it over to a table where they take a torch to it to mold the stem and the base together and set it. After that, they put it into this large container, which serves as a type of kiln.
Putting the pieces in here allows for them to be in a controlled temperature. To ensure the glass does not crack, it must slowly be brought down to room temperature. It then takes a few days for the glass to be completely ready. This process allows for it to harden and not be as fragile—but it's still made of glass so it's still fragile.
Overall, I would definitely recommend checking this place out. Though it may seem like a lot of money, it really isn't for what you are making. You are making a beautiful piece of art out of glass. It is perfectly unique, not to mention you get a great experience out of it as well. Go check this place out for sure if you are thinking of some cool, new things to try out.