Hurricane Harvey demolished a major chunk of Texas, including major city Houston. Hurricane Irma flooded Florida, leaving many with severe water damage. Hurricane Maria has left thousands of people in Puerto Rico stranded without water, food, or electricity. This year's hurricane season has left an indelible mark on various locations throughout the United States and abroad, as Hurricane Ophelia makes its way to Ireland. These storms have disastrous effects on the lives of millions of people who live in the areas they destroy, not to mention economic consequences and political implications as well.
Many people have felt helpless at Loyola since we're so far away from the destruction, but we all want to find ways to help those who are suffering as a result of these terrible natural disasters. Below are a few ways to contribute to various funds, organizations, and drives that you can lend a hand to those suffering in these areas.
A Hurricane Relief Donations Drive is being held right here on campus. CCSJ, Campus Ministry, ALANA services, and The Study have partnered together to offer a way for students to easily donate to those affected by the recent natural disasters. Simply donate first-aid supplies, nonperishable food items, bottled water, personal care products, diapers, clothes, toys, and books to boxes located in the above offices by Thursday Oct.19. These donations will be sent to those affected by hurricanes in Puerto Rico, the U.S. Virgin Islands, and other areas.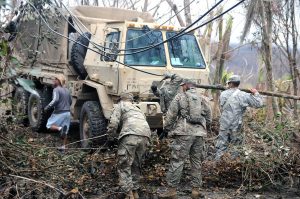 The Center for Disaster Philanthropy is a relief fund focused on serving those affected by Hurricane Harvey in Louisiana and Texas. They are focused on addressing the long-term needs of these areas, such as "rebuilding homes, businesses, infrastructure, meeting the needs of young children, supporting mental health needs, and boosting damaged agricultural sectors," according to their website. You may choose to donate once or multiple times, honoring someone with your donation if you so choose.
Global Giving is a nonprofit organization that is looking to raise $3 million to support those affected by Irma in the Caribbean and Florida. Donations are used for immediate aid, as well as supporting local relief organizations, because Global Giving believes "organizations that are deeply-rooted in local communities are in the best position to provide long-term support for survivors of natural disasters like Hurricane Irma." You may choose to donate anywhere from $15 to $1,000 monthly or just once.
Unidos Por Puerto Rico is an initiative started by First Lady of Puerto Rico Beatriz Rosselló with the intention to provide "aid and support to those affected in Puerto Rico by the passage of Hurricane Irma and Hurricane María," according to the website. All of the proceeds will benefit the victims of these hurricanes. The fund features a map and graphs to show how much of needed supplies are distributed to certain areas, so you can watch your dollars directly help those in need in Puerto Rico. You can donate any desired amount, using a direct routing number, card, or PayPal.
Images courtesy of Ruben Diaz Jr. and Puerto Rico National Guard