On Sept. 20, Hurricane Maria, a Category 5 storm, hit Puerto Rico, cutting off communication for millions from most of the world.
A week later, 97 percent of residents are still without power, and almost half of the residents do not have running water.
There are those in the Loyola community who have felt the impact of Maria as family members and friends reside on the island while they are in the United States.
Dr. Paola Pascual-Ferra, a Public Relations professor, is originally from Puerto Rico, and has been living in the U.S. on and off since 1995. Her sister resides here as well, while her mother is still in Puerto Rico. After multiple days without communication with her family and not being able to tell her mother happy birthday, Pascual-Ferra was finally able to talk to them.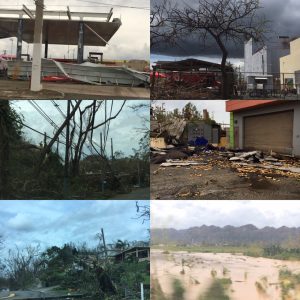 "There is a lot of damage, worsened by the loss of basic utility services and very limited gasoline and diesel supplies," she said. "Our home is fine, but my family's business, a bakery in Arecibo, suffered structural and water damage."
Pascual-Ferra said the greatest dangers at the moment are continued flooding, the threat of looting and other similar incidents that occur with shortages of food and basic resources. There is also an interruption of health services for those who are dependent on them daily, as well as those who require immediate attention due to injuries from the hurricane.
She had been trying to find her mother a flight to the U.S., as she lives alone and needs access to basic care and medications since the storm hit. In the past few days, Pascual-Ferra booked her mother on a "humanitarian flight" to the U.S., which was free of cost and included chicken sandwiches, water, and a cookie for passengers. Most of the passengers were older, and many animals were on board as well.
Due to the impaired communication, Pascual-Ferra, as well as many other people, have been using social media to communicate with those in Puerto Rico.
"The greatest power of social media, apart from the obvious use for fundraising and advocacy efforts, has been in helping people who live outside of Puerto Rico and who have not heard from family and friends back home to connect with each other and share information," Pascual-Ferra said. "I have heard from many people who I do not know personally because of tweets and posts on Facebook, and we have reached out to each other to share whatever information we had, especially immediately in the aftermath of Hurricane Maria."
This sense of community has provided her with comfort and solidarity during this "uncertain and stressful time," she said.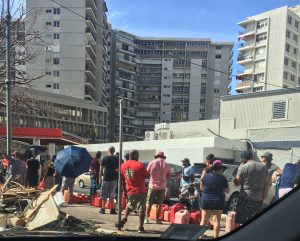 Though Maria hit Puerto Rico and caused severe damage, Pascual-Ferra has hope for her island home.
"Puerto Ricans are a very resilient people, and part of why I am hopeful we will overcome this is because of our ability to reach out to each other as family even if we have never met each other before," she said.
She said millions of Puerto Ricans live both on the island and across the world, and they are all watching closely to see the situation unfold and are ready to help.
Pascual-Ferra is very grateful for the "outpouring of support and care" that she has received in the last week from colleagues, students, and alumni who have emailed, texted, and called just to see how her family is doing and what they can do to help.
"I am very grateful to the Loyola community for the amazing support and love they have shown," she said.
Students are getting involved with efforts to support Puerto Rico as well.
Paola Amiama '18, who is from Puerto Rico, is the Loyola student representative and point of contact for Students with Puerto Rico, a loose organization of Puerto Rican college students across the U.S. that has begun to form.
The group is working to promote and organize fundraisers and donation drives, which were partly started by the First Lady of Puerto Rico Beatriz Isabel Rosello, to send help back to their home. This group is responsible for creating a GoFundMe campaign that supports Rosello's aid initiatives.
Amiama is in charge of receiving information and distributing it to students at Loyola for the fundraising efforts here on campus. Christian Lopez '18 sent a letter to the Loyola administration, signed by Puerto Rican students, to help make them aware of the funding effort. The students are also in the process of trying to secure a motorpool car so they can go to Washington, D.C. for a fundraising event and gathering of Puerto Rican students.
Alondra Diaz '21, a resident of Puerto Rico who came to Loyola to study, shared the GoFundMe campaign on social media. She posted how talk show host Jimmy Fallon donated $20,000 to the campaign and encouraged others to donate as well. #PuertoRicoSeLevanta is a hashtag she has been using.
"I'm trying in every way possible to help my island," Diaz said. "Puerto Rico is not destroyed, it's just closed for renovations."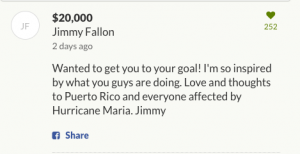 The Caribbean Student Union (CSU) and the Association of Latin American and Spanish students (ALAS) have also partnered together in a joint donation drive, which concluded on Sept. 27.
"We are getting help, but it's only the beginning of the really long road that's ahead of us to fixing the island," Amiama said. "The hurricane itself is a big event, but just because time has gone by it doesn't mean it's done with. Now is when we need the most help."
Amiama also believes the situation in Puerto Rico should be getting more coverage from the media, particularly from President Donald Trump.
"People like Jimmy Fallon, who has no connection to Puerto Rico, donating, or Kim Kardashian tweeting about us, helps a lot," she said. "You would expect if these people responded, that the president would say more."
According to Amiama, if there's one good thing to come from all this, it's the community of Puerto Rican students she has found on campus. In spite of this disaster, the students have come together in solidarity to support each other in this difficult time.
If you are interested in helping, there are organizations outside of the CSU that are taking donations, like the American Red Cross and United Way effort for example.
You can also donate goods through Amazon's Friends of Puerto Rico for Maria Hurricane Relief page. Through Amazon, you can order items from the posted wish list, and ship the goods directly to the Puerto Rico Federal Affairs Administration in Arlington, Va., which is collecting the items and will be sending them to Puerto Rico. You can find more information about that effort here, which ends Sept. 29.
You can also help by sharing news about the situation in Puerto Rico, as well as other islands in the Caribbean who have been devastated by Hurricanes Irma and Maria, through social media to help raise and sustain awareness. Doing so ensures that those affected by the hurricanes can continue to get help as time goes on.
*Editor-in-chief Nick Cirone contributed to this article as well, writing the sections on Paola Amiama.*