At Loyola, you don't have to go far in order to make a difference in the community.
The Center for Community Service and Justice, or CCSJ, held its annual Community Service Fair on Sept. 13. Dozens of smiling students and faculty filled McGuire Hall, with popcorn popping and a snow cone machine cranking.
Representatives from the various clubs and other volunteer organizations stood next to colorful tables and displays, waiting to share their passion to serve with anyone who would listen.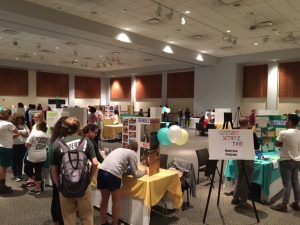 "Our goal? Connecting campus and community for a more equitable world. This amazing fair is a great opportunity for students to get involved," Mari Desangles, the Associate Director for Programs at CCSJ, said.
Cassidy Blythe '18, the Student Service Coordinator for York Road Community Days, stressed the importance of CCSJ for both Loyola and our surrounding community.
"The most important thing that CCSJ does is advocate. People on campus want to know more about serving off campus, and people not from here want to spread info to our campus," she said.
Because our school is located in Baltimore, there are so many diverse and unique opportunities available to make a difference. CCSJ offers many ways to get involved, including opportunities for one-time or weekly service, service-learning, and immersion experiences that take place here in Baltimore, and even internationally.
For Adelina Harvey '20, who worked serving food to the hungry in Baltimore, working for CCSJ has changed the course of her academic life.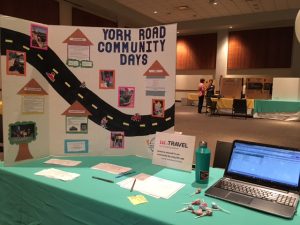 "I switched my major to sociology after working for CCSJ because they made me want to work more with communities, and not just individuals," Harvey said.
For others, working with people with disabilities led to new friendships. "We get to provide a friend to people who can't make friends as easily, and in return, we get to make a friend too," said Val Greisman '20 from Best Buddies, a group that strives to support the complete inclusion of those with disabilities.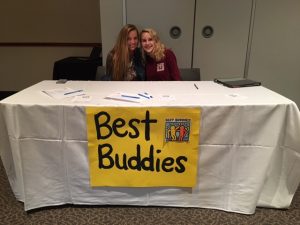 Isabelle Garrity '20, also from Best Buddies, feels as if true service is a two-way street.
"We leave so happy. That's the best thing about service, it's that it is two ways," Garrity said. "We give to them, and they give to us."
And for those in CCSJ, giving is just that simple.
CCSJ encourages you to find out more about them by emailing [email protected] or calling 410-617-2380.