On Friday, Feb. 10, over 40 students rode to the beautiful mountains of western Maryland for a weekend retreat known as Ignite. The retreat took place at the Loyola retreat house in Flintstone, MD filled with wonderful sights, nature walks, and amazing food.
Ignite is a student-lead retreat hosted in partner with Campus Ministry, and is an introductory retreat for those who want to learn more about Ignatian spirituality.
"The Ignite retreat was a great experience. It gave me an opportunity to step back from the stress of school and just reflect. This was my first retreat at Loyola and it definitely gave me the chance to connect with other students and learn more about myself and my own spirituality," said Kristen Doyle '19.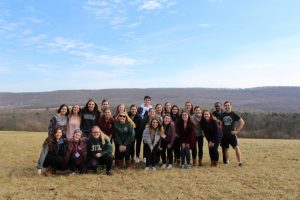 This retreat is perfect for anyone looking for a chance to get away from the "hustle and bustle" of campus life, to learn more about Jesuit traditions and Ignatian practices, and to explore their own spirituality on a deeper level.
Some of the topics that the Ignite retreat explores includes many aspects of Ignatian spirituality such as the daily Examen, the importance of discernment and reflection, and the value of silence.
Amanda Stankiewicz '19 attended the retreat last year, and chose to participate in this retreat as a leader.
"It was awesome to be able to share my story and then also hear about others ideas, opinions and beliefs," Stankiewicz said. "It meant so much to see the appreciation the [participants] had for what we put into making it happen, and to even see the friendships that were made over the weekend be carried out and seen on campus."
Ignite is open to all class years and encourages all students of any faith tradition to explore their own spirituality throughout the weekend. The retreat takes place once every semester. If you are interested in learning more about Ignite or any other retreats, visit Campus Ministry located in Cohn Hall (under the chapel) or check out the Campus Ministry website.
To Stankiewicz, Ignite is a retreat everyone should attend. "The whole experience brought me the greatest joy and is definitely the highlight of my sophomore year!"
All Photos Courtesy of Michelle Mencia