To college kids, December means stressing over finals and ending the semester on a (hopefully) good note. But on a happier side, it also means holiday cheer and spirit all around.
Baltimore is a great city that brings Christmas spirit to life. All around the city, there are lights and decorations that string across buildings and bring a feeling of joy to those who see them. Two such events that bring holiday cheer to the next level are the Christmas Village and Miracle on 34th Street.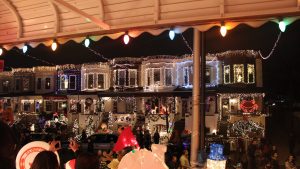 Miracle on 34th Street is an amazing display of lights, hung on a row of houses on a street in Hampden. The glow from the street can be seen around the corner, and the brightness does not disappoint.
The street made up of about 15 houses presents an electrifying spectacle of lights. The houses are decked out floor to ceiling with lights, statues, trees, inflatables, and nativity scenes. You can walk up the stairs of each home to see all the details up close and personal. One can only wonder how much their electricity bills are!
2016 is the 70th year of lights on 34th Street. This tradition started with Bob Hosier, who has been decorating his home in Northeast Baltimore since he was a teen. He married Darlene Hughes, who has also been decorating her house in Hampden since she was a kid. Together, they brought the lights to a bigger and better height.
There is no charge to see the lights – you can just walk right on the street. The houses light up every night at 5:15pm  and shut off at 11pm. The street has also been nationally recognized by networks like "Nightline", the "Travel Channel." Some of the more notable features include a hubcap Christmas tree, a bike rim snowman, overhead trains, and a red light-up crab.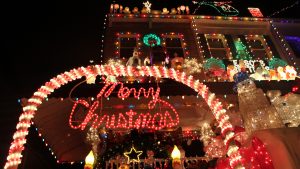 Another Christmastime event in Baltimore is the German Christmas village located in the West Shore Park in the Inner Harbor. With over 50 vendors, you can try traditional European food and drinks while shopping for ornaments, jewelry, and arts and crafts. Lights are displayed everywhere, and a Christmas tree sits right in the middle of the action. The European vibe is greatly heightened with the smell of waffles, gingerbread, and mulled wine.
People are transported to Germany when visiting the market. There is even a beer tent that encompasses one of Europe's most beloved traditions. In fact, this was styled after the real traditional villages in Germany, especially the famous one in Nuremberg.
The German village in Baltimore began in 2013, making this year its fourth annual event. It started on Thanksgiving day, Nov, 24, and will continue until Christmas Eve, so there is plenty of time to hop on the Volkswagen to get there. It is open Sunday through Thursday from 11am to 7pm, and Friday and Saturday from 11am to 8pm. Access to the outdoor area is free, but admission to the heated festival tent is $5 for adults and $3 for children.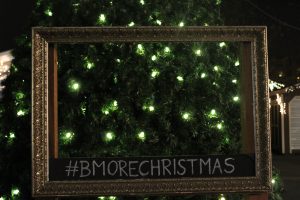 There are events each weekend and weekday in the heated festival tent, which also includes a food court and more shopping. The events include wine tasting, taking pictures with Santa, the Army-Navy game weekend, and Little Baltimore weekend.
These two events and many more encompass Christmas in Baltimore. It is a city where the holiday spirit comes alive, and there is no Grinch to be seen for miles. Loyola students are just a quick Uber or shuttle ride away from spreading Christmas cheer around the
All Photos Courtesy of Marley Scheld