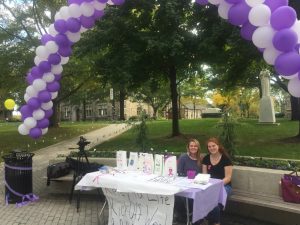 From Oct. 17-21, Loyola's Relay for Life club held a week-long kickoff event on the quad promoting Relay's main event, which will take place on March 25, 2017, raising awareness of the American Cancer Society, and raising money for cancer research and the support of cancer patients. Each day, the tables were run by different committees within Relay who promoted different aspects of what they do for Relay for Life.
On Monday, the table, led by the Mission Committee and sophomore co-chairs, celebrated Breast Cancer Awareness Month. They gave out candy with facts about breast cancer awareness and Relay's mission and goals for this year. Anyone who was interested was asked to write who their hero is on a whiteboard for a picture opportunity.
On Tuesday, the Public Relations and Sponsorship Committees held a social media competition. Anyone who tweeted potential sponsors asking for donations to fund the main event was entered to win an official Relay for Life hat. There were also several giveaways that included pens, cups, and stickers promoting Relay.
On Wednesday morning, all of the committee members met at 6:45 a.m. to paint the campus purple for Blitz, a massive campaign to make Relay's presence known on campus. Members put up posters, streamers, balloons, and decorations all over campus, and they created a huge purple and white balloon arch on the Quad. During the day, the Luminaria and Survivorship Committees set up a banner for students to write why they relay and another banner to collect words of encouragement to cancer patients at the Hope Lodge in Baltimore, one of 30 places across the country where cancer patients and their families can stay for free and are provided meals and transportation to and from treatment. Relay members also sold Luminaria bags, which are a way to dedicate a candle for survivors or those who have lost their lives to cancer. They are being sold, decorated, and collected throughout the year for the main Luminaria ceremony during the Rela
y event.
At 6:30 p.m. on Wednesday night, Relay hosted a mini-Luminaria ceremony. The center of the quad was decorated with beautifully colored Luminaria bags filled with candles. At the ceremony Fr. John Savard, S.J., began with a prayer and a short speech on the importance of being active in clubs that make a difference in our community. Following prayer, Jeff Gailius '19 gave a speech about how his life has been impacted by cancer, expressing how important it is to create a community of support, encouragement, and love for all those who have been somehow impacted by cancer.
Afterwards, two of Loyola's a cappella groups performed for the ceremony. The Belles, the all-girls group, sang "Kids" by OneRepublic and "Fire Meet Gasoline" by Sia. The Chimes, the all-boys group, performed "All My Loving" by the Beatles and "Don't Let the Sun Go Down on Me" by Elton John.
To end the ceremony, two of the three event co-chairs, juniors Katie Ferrone and Elise Reumann, thanked everyone who made this week possible and spoke about Relay's mission is and how Loyola plays such a big role in making a difference. They also announced the theme for this year's Relay Event in March: Superheroes.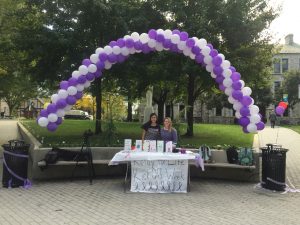 On Thursday, the Food and Fundraising Committees held a raffle for a $40 gift card to Clark Burger. They also had a bake sale with homemade cookies, brownies, and other desserts decorated with cutouts of fundraising ideas.  Committee members gave away 50 free Chick-fil-A sandwiches for anyone who signed up for Relay online.
To top it all off, on Friday the Recruitment and Entertainment Committees continued with several giveaways. They played music strictly related to this year's theme of superheroes and played any requests from students for a dollar. Throughout the day, they had a whiteboard poll asking, "What Superhero should help us Fight Cancer?"
Loyola's Relay for Life club has done a lot on campus to promote awareness and raise money for the American Cancer Society in ways that involve all members of the Loyola community. If you are interested in learning more about Relay in general or want to start a team and sign up for the main event in March, the link to the Relay website can be found here.
All Photos Courtesy of Michelle Mencia