On Tuesday, Sept. 20, actress and human rights advocate Emma Watson delivered a speech at the 71st United Nations General Assembly on behalf of her foundation HeForShe, which works to advocate for gender equality. She presented a parity report filled with statistics on the numerous disparities found between men and women in the workforce. According to the report, 95 percent of CEOs of the largest corporations in the world are men. Additionally, Watson calls to our attention that "bridging the gender gap could produce upwards of $12 trillion of additional global economic output annually in 2025."
In her speech, Watson speaks about her time at Brown and how this particular community shaped her identity and beliefs. Her positive experiences there made her feel secure and allowed her to take on many leadership opportunities. She does, however, realize that this is not the case in every university or college.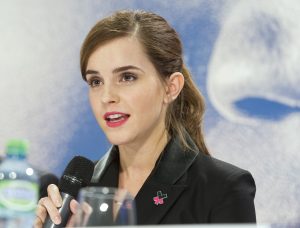 "What if our experience of university showed us that women don't belong in leadership? What if it shows us that, yes, women can study, but they shouldn't lead a seminar?" Watson said. "What if, as still in many places around the world, it tells us that women don't belong there at all? What if, as is the case in far too many universities, we are given the message that sexual violence isn't actually a form of violence?"
Watson emphasizes the fact that changing the expectations of gender equality, especially at the college level, can help to bring the ideals of equality into the workplace and into the future. "The university experience must make it clear that the safety of women, minorities and anyone who may be vulnerable, is a right and not a privilege," she said.
Colleges should be actively trying to create a community in which no one feels as though they are unimportant or unsafe.
"A university should be a place of refuge that takes action against all forms of violence. That's why, we believe, that students should leave university believing in, striving for, and expecting societies of true equality," Watson said. "True equality in every sense, and that universities have the power to be a vital catalyst for that change."
If students see that their colleges are trying to change how we see equality in our community and in the workforce, they might try to become more active in promoting the ideals of equality themselves.
Over 54,455 people have already pledged to join and support the HeForShe Initiative including COO of Twitter Adam Bain, CEO of Barclays Jes Staley, and Global Managing Direction of McKinsey & Company Dominic Barton, among many others. Among these supporters are Georgetown University and Stony Brook University. Watson states, "A good university is like a tiny utopia. It's a miniature model of how the whole of society should look." Seeing school in this light challenges us as students, as a community, and as a society to be determined and active in creating a future with more opportunity, equality, and peace.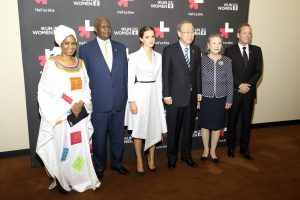 At Loyola University Maryland, students are challenged to explore and talk about social, racial, and economic inequalities within our community and in the world.  Emma Watson's speech and the HeForShe Initiative are wonderful ways for the Loyola community to learn about some of the disparities that affect our society. They especially highlight issues in education and in the workforce. Watson stresses the importance of college campuses being a place of community in which everyone can achieve their academic or professional goals without fear of judgement, bias, or exclusion.
Loyola's mission states, "Loyola also seeks to foster a spirit of trust, hopefulness, collegiality, and dialogue by providing members of its community with structures that encourage open sharing of ideas and values, and which encourage collaboration within and across institutional divisions and constituencies." As members of the Loyola community, we are called to serve for and with others, whether that be through moments of joy, or speaking out against discrimination and injustice. In this respect, we should create ways in which students can speak out and raise awareness for social issues including gender inequality and ensure that every voice is heard.
One way in which Loyola promotes gender equality is through the efforts of the Women's Center. The Women's Center mission statement says, "We are dedicated to empowering women and men by educating the university and surrounding community on issues of gender that are of particular interest to women." This is just one of the many resources available to both men and women on campus to speak up about important issues and the necessity of having a strong, caring community.